In late 19th century rural Vietnam, fourteen-year-old May is given away in an arranged marriage and becomes the third wife to her older husband. She learns that she can gain status and security if she gives birth to a male child and this becomes a real possibility when she gets pregnant. However, her path is fraught with danger when May develops an attraction for Xuan, the second wife. As May observes the unfolding tragedy of forbidden love and its devastating consequences, she must make a choice: to either carry on in silence and safety, or forge a way towards personal freedom.
Ash Mayfair's debut feature signals the emergence of a young female writer-director whose aesthetic sensibilities, cinematic language and extraordinary ability to illuminate the past will captivate audiences.
Praise for The Third Wife:
"Aesthetically entrancing…sensitively poetic…." –The Hollywood Reporter
"Ash Mayfair's supremely atmospheric feature debut explores repressed desires against the resplendent but emotionally suffocating landscape of late-19th century rural Vietnam. Telling the story of a young girl who enters an arranged marriage to a landowner, The Third Wife echoes the ravishing art-house triumphs of Tran Anh Hung, who serves here as an 'artistic advisor', while his wife and frequent collaborator Tran Nu Yen Khe plays one of the principal roles. Yet Mayfair acquits herself in such confident fashion that her sensuously elegant drama isn't at all hindered by the inevitable comparisons." –Screen Daily
"Debut director Ash Mayfair delivers a gorgeously intimate, evocative, and melancholy story of female subjugation in 19th-century Vietnam. By focusing with unwavering empathy on the interior life of teenage bride May (Nguyen Phuong Tra My), the remarkable The Third Wife feels newborn and ineffably modern. Winner of prizes at both the San Sebastian and Toronto festivals, this is the rare debut that derives its freshness not from inexperience but from a balance between compassion and restraint that most filmmakers take decades to achieve." –Variety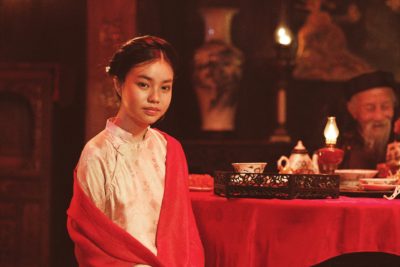 DIRECTOR'S STATEMENT: The Third Wife is inspired by the history of my family. It is a coming-of-age story, a tale of love and self-discovery in a time when women were rarely given a voice.
The themes of women's sexuality, the growth from childhood to adulthood and the individual's struggle within a conservative patriarchal society have always fascinated me. I grew up in Vietnam, a society that held traditions, history, and community to be more valuable than personal independence. The heroine of this story embarks on a journey where her identity must assume many roles, that of a child, a woman, a wife, a lover, and eventually a mother.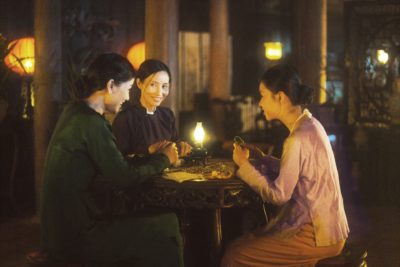 The men and women in my script are all drawn from real people, connected to the rural landscape of the country. The story, although fictitious, is a tapestry woven from many true events. Both my great-grandmother and my grand-mother had arranged marriages at a young age. My great-grandmother lived in a polygamous marriage from when she was a teenager until the end of her life. The history of arranged marriages is deep-rooted and I was drawn to the subject not only because of my familial heritage but also because this is unfortunately a practice that still exists in several countries in the world.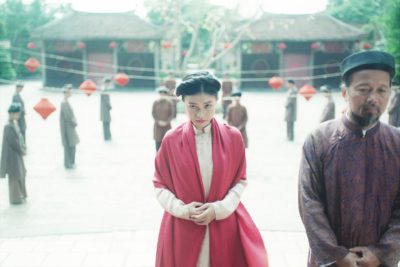 The themes of sexuality and sensuality in the film therefore had to be handled delicately. Nevertheless, I did not want to shy away from portraying what would be emotionally truthful. May's desire for Xuan, coupled with her pregnancy and the shock of living in such a circumstance at a very young age would naturally force her to grow beyond her years. May's wedding night and the rituals involved stemmed from ancient Vietnamese traditions brought to my attention by the actors themselves during the rehearsal period. I was fortunate to have had a very sensitive and mature actress in the leading role who understood the demanding nature of the part, whose family was also extremely supportive. May's journey in the film became much richer because my actress was able to give the character her own emotional resonance, bringing her personal understanding and sympathy to the story. Within the socio-political background of the period, I felt that it was important to address the subject matter of love and desire with as much candor as possible. It is not my intention to portray these women as victims. Rather, May is a soul capable of so much more than the roles prescribed to her by society, not unlike the fates
of many women in our present time.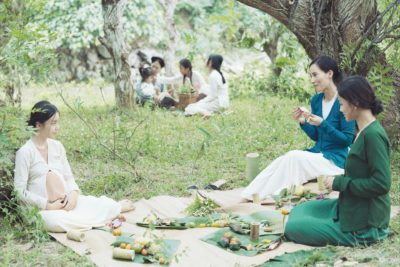 As a child, tales of incredible circumstances involving birth and death, child rearing, living as a concubine and the ensuing consequences, lost love and found comfort, were the wellsprings that nourished my imagination. When we embarked on the journey to make this film five years ago, I found that many people I talked to during my research and preparation have lived through similar experiences or have had family members with nearly identical fates to my characters. During the making of the film, it was important that the cast and crew understood the way life was in a very intimate way. I held long improvisational rehearsal periods when the cast would live and interact in costumes and in characters. The set was designed in a way that was historically exact and each of the separate spaces in the manor would provide a completely immersive experience for the actors. I lived on set for several weeks during the rewrite of the script in order to properly absorb the feeling of the landscape. During rehearsals, I worked with the cast very closely on every aspect of their characters, using historical research, literature, painting and music to inform ourselves of the thought process of people in the period. I was lucky to have grown up in a land enriched by a prominent history of folklore. The oral tradition of Vietnamese art and literature has given me a deep appreciation for the musicality of the language whose poetic sensibility I hope to bring forward in the film.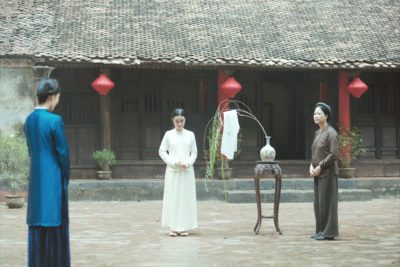 In terms of aesthetics, the visual choices of The Third Wife are largely informed by the landscape and cultural traditions of northern Vietnam, the birth place of my great grandparents. Nature is a dominant symbolic force closely tied to spirituality and religion. People's lives and habits were informed by the movement of the sun and the seasons. It was therefore important to portray this using as much natural light as possible. Our Director of Photography went through a lot of experiments using live fire for lighting during night time scenes because I did not want any artificial feeling to permeate the frame. Consequently, The Third Wife has a painterly approach to cinematography. The stillness of most of the composition comes from the desire to make every frame as close as possible to a
watercolor painting.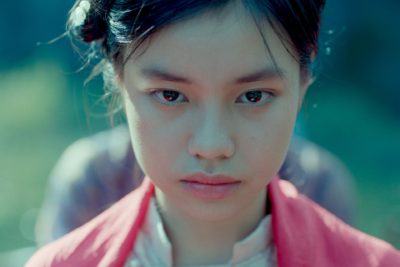 As an artist, I believe that The Third Wife is a story that needs to be told not just because it is deeply personal to me but also because the themes explored and the lives unfolded carry universal significance. Being separated from a loved one is devastating for men and women of any decade. The struggle between an individual's desires and the duty owed to one's family affects people of every class, race and gender. Girls and women everywhere still suffer from a lack of education and professional opportunities, even in modern, developed societies. I became a filmmaker because no other medium has given me as efficient a way to reach out and connect with others. The beauty of the screen for me is not only escapist
but also transformative. This film will have moments that are blunt, uncomfortable, harrowing and painful. However, I hope that it will also be forgiving, generous, humorous, loving and sensual, much like the many lives I have had the privilege to witness. ~ Ash Mayfair
Ash Mayfair was born and grew up in Vietnam. She received an MFA in filmmaking from NYU. Ash's short films, The Silver Man, Sam, Heart of a Doll, Grasshoppers, Lupo, Walking the Dead, and No Exit have been shown by numerous international film festivals. The Third Wife is her first feature film. The screenplay won the Spike Lee Production Fund 2014 and was on the NYU Purple List 2015 for the best screenplays written by graduates. The Third Wife also won the Grand Prix at Autumn Meeting Lab 2015 in Vietnam and the Best Award for a non-Hong Kong project at the Hong Kong Asia Film Financing Forum 2016. In 2017, the project was also among the 10 films selected to be presented at IFP (Independent Filmmakers Project) in New York.