Instead of the Valentine's Day massacre depicted in SOME LIKE IT HOT, Laemmle Theatres and the Anniversary Classics Series present comedy and romance to mark the holiday. Two award-winning comedies from 1959 share the bill and you can enjoy both SOME LIKE IT HOT and PILLOW TALK for one admission price!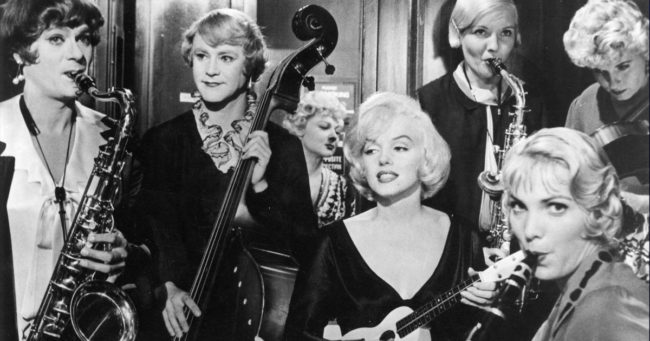 When the American Film Institute conducted a poll of critics and filmmakers to rank the greatest American comedies, Billy Wilder's SOME LIKE IT HOT came in at #1. The hilarious film melds violence, cross-dressing, and music, and benefits from a superb cast headed by Marilyn Monroe, Jack Lemmon (Oscar-nominated for his performance), Tony Curtis, Joe E. Brown, and George Raft. Wilder was nominated for his direction and for the screenplay he wrote with frequent collaborator I.A.L. Diamond. Orry-Kelly won the Oscar for best black-and-white costume design, especially for the stunning costumes he created for Monroe, including an almost see-through dress that she wears while performing.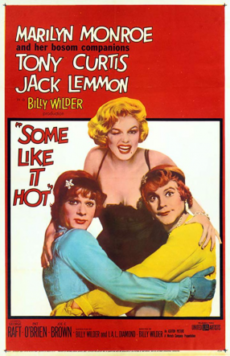 The story follows two down-on-their-luck musicians who inadvertently witness the 1929 St. Valentine's Day Massacre in Chicago and are forced to go on the run. Their only option to escape the gangsters is to disguise themselves as women and join an all-girl band on a tour of Florida.
Reviews for the film were ecstatic. The New Republic's Stanley Kauffmann wrote, "This new Marilyn Monroe-Jack Lemmon-Tony Curtis film is a lulu… With easy mastery, [Wilder] has captured much of the scuttling, broad, vaguely surrealist feeling of the best silent comedies." Roger Ebert declared, "Wilder's 1959 comedy is one of the enduring treasures of the movies." When the Library of Congress established its National Film Registry to preserve important films, SOME LIKE IT HOT was one of the first 25 movies inducted. Joe E. Brown mused in the movie's famous final line, "Nobody's perfect." Maybe not, but this film comes close.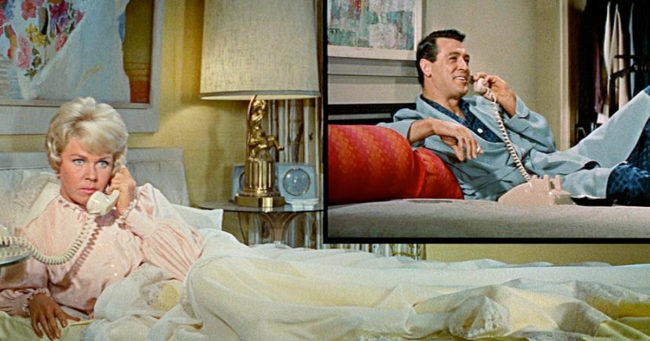 PILLOW TALK marked the first teaming of superstars Doris Day and Rock Hudson and turned out to be a box office bonanza. Although she was not always appreciated at the time, Day was one of the few actresses to regularly play career women in the conservative 1950s. In PILLOW TALK she was cast as a successful interior decorator who shares a party line with a composer and womanizer played by Hudson. Forced to listen to his unending stream of sexual conquests, Day protests vociferously, and Hudson resolves to make her change her tune by seducing her. Both antagonists score a few pointed jabs before the inevitable final clinch.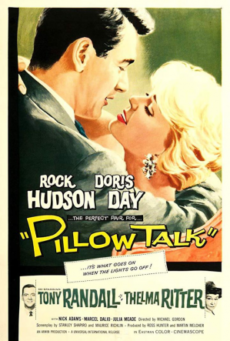 The film won the Academy Award for best original screenplay, written by Russell Rouse, Clarence Greene, Stanley Shapiro, and Maurice Richlin. It received four other nominations, including Day's only nod for best actress. Tony Randall and Thelma Ritter head the delectable supporting cast. Ross Hunter produced, and Michael Gordon directed.
Among the film's many favorable reviews, Bosley Crowther of The New York Times called it "one of the most lively and up-to-date comedy romances of the year." Leonard Maltin hailed an "imaginative sex comedy… fast-moving; plush sets, gorgeous fashions." The film's enormous success led to two other Day-Hudson comedies, Lover Come Back and Send Me No Flowers. The picture was inducted into the National Film Registry in 2009.
Our Valentine's Day Double Feature screens on Thursday, February 14th in Pasadena, NoHo, and West LA! Click here for tickets to the 5:10pm show of PILLOW TALK with the 7:20pm show of SOME LIKE IT HOT included. Click here for tickets to the 7:20pm SOME LIKE IT HOT, with the 9:45pm PILLOW TALK included.