Laemmle Theatres and the Anniversary Classics Series launch our Anniversary Classics Abroad program for 2019 with one of the most acclaimed foreign-language films of the 1970s, Federico Fellini's boyhood-memory masterpiece, AMARCORD. Actor Michael Forest, who worked on the film, will share some memories of working with Fellini in a Q&A before the screening at the Royal Theater.
Fellini collected his fourth and final directing Oscar nomination for the film, which won the Academy Award as the year's best foreign language film. It was also named the best film of the year by the New York Film Critics, and Fellini was their choice for Best Director.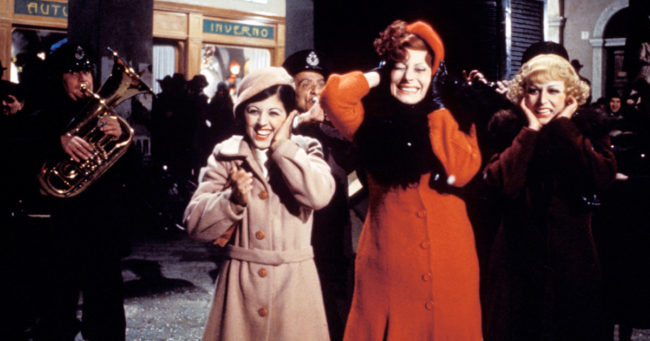 AMARCORD (the vernacular for "I remember" in Romagna) is an evocation of a year in the life of an Italian coastal town in the 1930s. It is not a literal recreation but more of a dreamlike memoir of a time filtered through sentimental, political, and erotic reminiscences of a bygone era.
There is no central character, but an assortment of townspeople played by an ensemble cast. Among them are Titta (Bruno Zanin), a teenager who possibly could be the young Fellini; Titta's father (Armando Brancia), a socialist construction foreman openly at odds with the fascist government; Gradisca (Magali Noel), the town hairdresser and femme fatale; Titta's foul-mouthed grandfather (Guiseppe Lanigro); Titta's crazy uncle (Ciccio Ingrassia); and The Lawyer (Luigi Rossi), the narrator and master-of-ceremonies.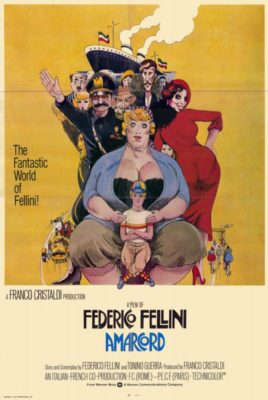 Fellini co-wrote the Oscar-nominated screenplay with Tonino Guerra ('La Notte,' 'Blow-Up') and employed frequent collaborator Nino Rota to compose the score, with color cinematography by Giuseppe Rotunno.
Critics of the day received the film rapturously. Time Out New York called the film "A funhouse tour through Fellini's mind…he has mined his youth before but never with such jocularity and emotional force… [with] some of the most lyrical imagery the maestro has ever concocted."
Vincent Canby of the New York Times was equally impressed, writing, "it's a film of exhilarating beauty…may possibly be Fellini's most marvelous film."
Roger Ebert called it Fellini's "last great film," raving, "if ever there was a movie made entirely out of nostalgia and joy, by a filmmaker at the heedless height of his powers, that movie is Federico Fellini's AMARCORD."
AMARCORD screens Wednesday, January 16 at 7pm in Encino, Pasadena, and West LA. Click here for tickets.