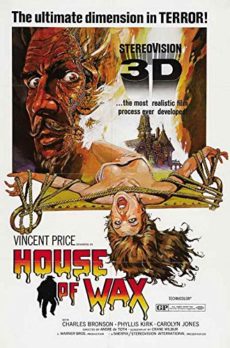 This Halloween season Laemmle Theatres and the Anniversary Classics Series present a 65th anniversary screening of the 1953 horror thriller HOUSE OF WAX, starring horrormeister Vincent Price, in 3-D.
The film was a remake of Warner Bros.' Mystery of the Wax Museum (1933) with the added sensation of three-dimensional technology. This version is noteworthy for its creative use of 3-D and emphasis on storytelling over gimmicks.
Directed by Andre de Toth from a screenplay by Crane Wilbur (adapted from the earlier film and the play The Wax Works by Charles Belden). Toth, a Hungarian émigré and workman director who remarkably had one eye, which rendered him unable to see the 3-D effects of his most accomplished movie. House of Wax was the first color 3-D feature film from a major studio, and its' success at the box office fueled the first 3-D craze that swept Hollywood in the early 1950s.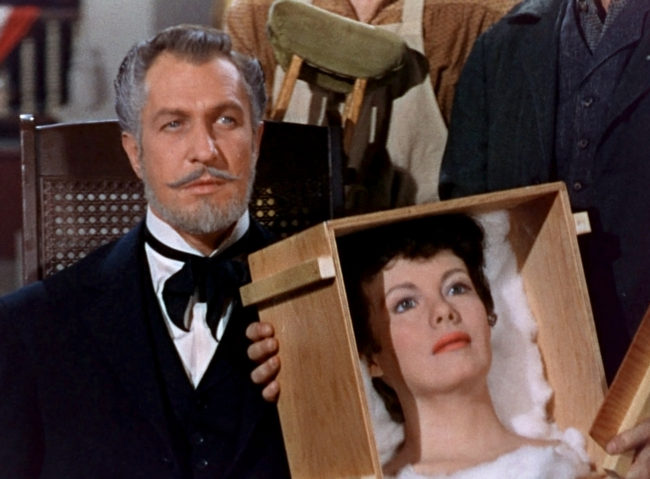 Vincent Price stars as a wax sculptor-artist of an early twentieth-century New York wax museum who is disfigured in a fire set by his greedy business partner. He returns to open a new house of wax figures that create a show business sensation of shock and terror, with a horrifying secret – his wax effigies are now filled with corpses.
After primarily supporting parts, Price relished the leading role that launched him into the front ranks of screen villainy, and he spent the rest of his movie career closely identified with the horror-terror genre in such films as House on Haunted Hill, The Pit and the Pendulum, The Masque of the Red Death, The Abominable Dr. Phibes, and Theater of Blood.
A strong supporting cast included Frank Lovejoy, Phyllis Kirk, and in roles early in their careers, future Oscar-nominee Carolyn Jones (Bachelor Party, TV's The Addams Family) and action star Charles (Bronson) Buchinsky (Death Wish), who is somewhat pitiable in the role of madman Price's mute assistant.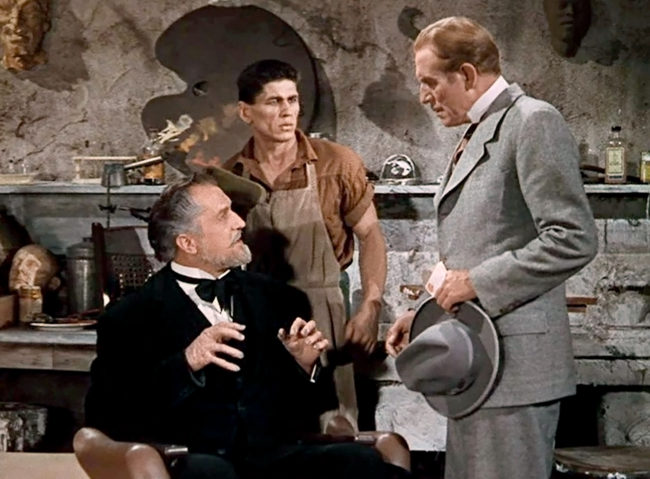 The novelty of wearing polaroid glasses to view the 3-D effects (including a paddleball-pitchman and the original museum fire) helped lure audiences away from their television sets in the fifties.
Variety aptly predicted "this film will knock 'em for a ghoul." The film was successfully reissued twice, in 1971 and again in the second 3-D fad of the early 1980s. In 2014, the movie was selected for preservation by the Library of Congress in the National Film Registry.
The 65th anniversary screening in 3-D shows at the Ahrya Fine Arts in Beverly Hills on Saturday, October 13 at 7:30 PM. 3-D glasses provided to view the fun.
Format: 3-D DCP