Bloody Disgusting presents Retro Nightmares Cinema Series brings campy fun back to theaters starting this September in Pasadena, North Hollywood, and Santa Monica.
Just in time to kick off the Halloween season, five HD digitally remastered cult horror classics–as voted online by fans–will be coming to the big screen for three nights only: The House on Sorority Row (Thursday, September 27th), Amityville: The Evil Escapes & Amityville: It's About Time – Double Feature Event (Thursday, October 4th), and Sweet Sixteen & The Convent – Double Feature Event (Thursday, October 11th).
Many of these films haven't been shown on the big screen in decades, so now is the opportunity for horror fans to share the experience together and enjoy exclusive in-theater content, including videos produced by Attack Media, the folks behind "The Attack" web show on Twitch and behind-the-scenes footage.
SEPTEMBER 27th
THE HOUSE ON SORORITY ROW (1983) at 7:30pm and 9:55pm
After a seemingly innocent prank goes horribly wrong, a group of sorority sisters are stalked and murdered one by one in their sorority house while throwing a party to celebrate their graduation.
Special in-theater bonus content includes Attack Media's comedic makeover of The House on Sorority Row (1983) in a five-minute re-edit presented as a ladies' etiquette school recruitment video.
Cast: Katie McNeil, Eileen Davidson, Janis Ward, Robin Meloy, Harley Jane Kozak, Barbara Harris
OCTOBER 4TH Amityville Double Feature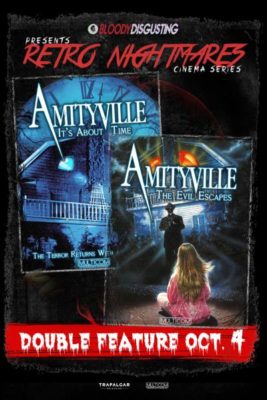 AMITYVILLE: THE EVIL ESCAPES (1989) at 7:30pm
The demonic forces that were lurking in the infamous house in Amityville for over 300 years escape to a remote California mansion by inhabiting a lamp. This evil latches onto a little girl living in the home by taking on the form of her dead father. Soon it manipulates her completely, overtaking her body to the point of possession. It's up to a young priest to perform an exorcism and attempt to lift the curse from the desperate family.
Cast: Patty Duke, Jane Wyatt, Fredric Lehne, Lou Hancock, Brandy Gold, Alex Rebar, Aron Eisenberg, David Elliott, Peggy McCay, Robert Alan Brownem, Warren Munson, Zoe Trilling
AMITYVILLE: IT'S ABOUT TIME (1992) at 9:25pm
Widowed father Jake Sterling returns home from a business trip with an antique clock, intended as a gift to his two teenage children. Having been created by a 15th century French necromancer and belonging to the infamous haunted house in Amityville, sinister incidents begin to transpire around the neighborhood after Jake places the clock on his mantle. After a dog attack, fires, and forces that fracture the passing of time, Jake's son and a neighbor race to uncover the history and mystery of the clock before it's too late.
Fans will also be treated to exclusive in-theater bonus content from Attack Media, as Amityville: The Evil Escapes (1989) and Amityville: It's About Time (1992) get the game show treatment in a five minute re-edit presented as a meme montage.
Cast: Stephen Macht, Shawn Weatherly, Megan Ward, Damon Martin, Jonathan Penner, Dean Cochran, Dick Miller, Terrie Snell, Willie C. Carpenter
OCTOBER 11TH Double Feature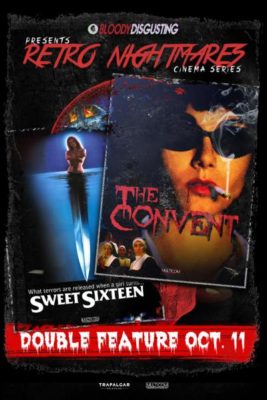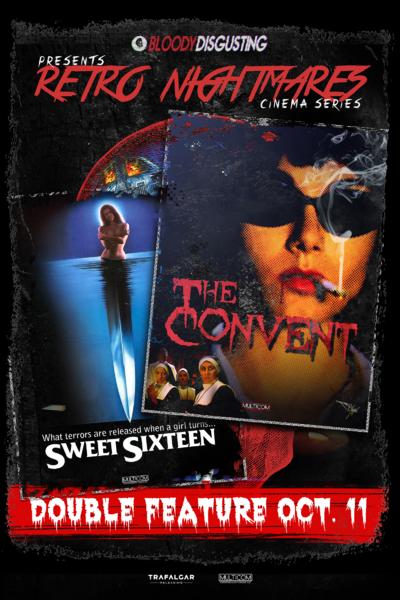 SWEET SIXTEEN (1983) at 7:30pm
Big city girl Melissa Morgan (Aleisa Shirley) tries to make new friends in the small Texas town she just moved to. The only problem is, each of the boys that she spends time with ends up brutally murdered. Her sixteenth birthday is on the way, but Melissa turns out to be a suspect when it seems she's the last person who has seen her boyfriends alive.
Cast: Bo Hopkins, Susan Strasberg, Patrick Macnee, Don Stroud, Dana Kimmell, Don Shanks, Glenn Withrow, Michael Pataki, Sharon Farrell, Steve Antin
THE CONVENT (2000) at 9:20pm
In 1960, a young woman commits a grisly massacre at St. Francis Boarding School, brutally murdering the clergy and nuns inside. Forty years later, college student Clarissa and her fickle friends break into the abandoned convent to tag it with their Greek letters before the Kappas beat them to it. Before long, the group discovers that it's inhabited by demons that are intent on possessing them. As the group dwindles in numbers and the bodies pile up, those who remain uncover the convent's long history with malevolent demonic forces and learn about the buried circumstances surrounding that fateful Sixties night.
In addition, fans will get exclusive new in-theater content featuring a behind the scenes and in-depth look at the filming and restoration of The Convent.
Cast: Joanna Canton, Coolio, Megahn Perry, Renee Graham, Adrienne Barbeau, Allison Dunbar, Bill Moseley, Chaton Anderson, Dorenda Moore, Elle Alexander, Liam Kyle Sullivan