Celebrate Father's Day at the movies as Laemmle Theatres and the Anniversary Classics Series present a 55th anniversary screening of an all-star comic romp, Stanley Kramer's IT'S A MAD, MAD, MAD, MAD WORLD.
After making several Oscar-winning and nominated dramas like Judgment at Nuremberg, Inherit the Wind, On the Beach, and The Defiant Ones, Kramer (the winner of the Motion Picture Academy's prestigious Irving G. Thalberg Award) decided to shift gears and make his first slapstick comedy.

The plot revolves around the frantic and desperate search for a cache of money hidden by an ex-convict. Although the film is basically lighthearted and riotous, Kramer does throw a few pointed barbs at all-American avarice. The director recruited a gigantic cast of comedians from television and theater as well as film; these performers span several decades of Hollywood history. The leading roles are played by Milton Berle, Sid Caesar, Jonathan Winters, Dick Shawn, Mickey Rooney, Buddy Hackett, Phil Silvers, Edie Adams, and Ethel Merman, with supporting and cameo roles essayed by everyone from Jimmy Durante, Buster Keaton, Jerry Lewis, and Terry-Thomas to Peter Falk, William Demarest, Barrie Chase, Eddie "Rochester" Anderson, and the Three Stooges. Spencer Tracy, who had starred in Inherit the Wind and Judgment at Nuremberg for Kramer, relished the opportunity to bring off a change of pace as the detective with his own devious plans for the hidden cash.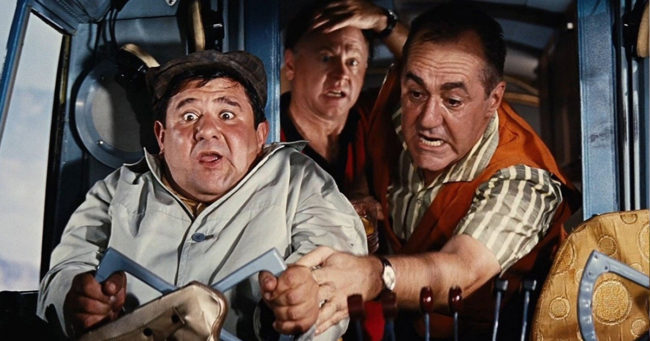 William Rose, who later won an Oscar for writing Kramer's Guess Who's Coming to Dinner, created the ingenious screenplay. The picture was nominated for six Academy Awards, including nods for cinematographer Ernest Laszlo (Ship of Fools) and composer Ernest Gold (Exodus). It won the Oscar for Sound Effects. Mad World was one of the top grossing films of 1963 and earned mainly positive reviews. Variety observed, "The comic competition is so keen that it is impossible to single out any one participant." The New York Times' Bosley Crowther concurred: "So many excellent actors and stunt men do so much in this film."

Against Kramer's wishes, the film was edited after its release. The Criterion Collection released a complete, restored version on Blu-ray in 2014, and this is the version that we will be screening.
Before the film, Kramer's widow Karen and daughter Kat will participate in a Q&A along with actress Barrie Chase. Unfortunately, Chase will not be in attendance.
IT'S A MAD, MAD, MAD, MAD WORLD screens at 4pm on Sunday, June 17th at the Ahrya Fine Arts in Beverly Hills. Click here for tickets.