Laemmle Theatres and the Anniversary Classics Series present the latest in our Anniversary Classics Abroad program: a 55th anniversary presentation of the Oscar-winning film of 1963, TOM JONES.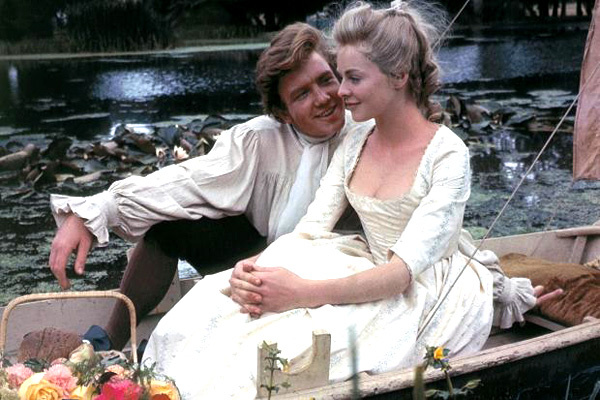 Tony Richardson's spirited comic romp was the first all-British production to be named best picture by the Academy since Laurence Olivier's Hamlet in 1948. The film won three other Oscars—best director for Richardson, best adapted screenplay by award-winning British playwright John Osborne, and best musical score by a gifted new composer, John Addison. The film received six other nominations, including a record-tying five acting nods—Albert Finney for best actor, Hugh Griffith for best supporting actor (he had won in this category four years earlier, for Ben-Hur), and an unprecedented three nominations in the supporting actress category—for Diane Cilento, Edith Evans, and Joyce Redman.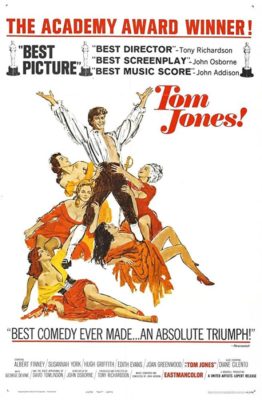 Up to this point, Richardson was best known for hard-hitting social protest dramas filmed in black and white—Look Back in Anger (based on Osborne's hit play), A Taste of Honey, and The Loneliness of the Long Distance Runner. For his new film, adapted from Henry Fielding's 18th century novel, Richardson made his first period piece, his first comedy, and his first film in color, with superb lensing by Walter Lassally. The director took a playful approach to the material, experimenting with a variety of film techniques, including a silent film opening, and a number of moments when characters broke the fourth wall to address the camera. Yet Richardson and Osborne retained the essence of Fielding's picaresque tale of a young orphan adopted by a rich nobleman but then thrown into jeopardy by scheming enemies.
The film is remembered for several striking set pieces, including a savage hunt sequence and an erotic eating scene that commingled lust and gluttony. The outstanding cast also includes Susannah York, David Warner, Joan Greenwood, and Peter Bull.
In addition to its Oscar win, the film was named best picture of the year by the New York Film Critics Circle. The New York Times' Bosley Crowther called Tom Jones "surely one of the wildest, bawdiest and funniest comedies that a refreshingly agile filmmaker has ever brought to the screen."
Time magazine also extolled "a way-out, walleyed, wonderful exercise in cinema" but added that the film was not completely different from Richardson's gritty earlier films. As the magazine noted, "It is also a social satire written in blood with a broadaxe." Audiences turned the innovative film into a box office smash.
TOM JONES screens at 7:00pm on Wednesday, March 21st in Pasadena, Encino, and West LA. Click here for tickets.
Format: DCP