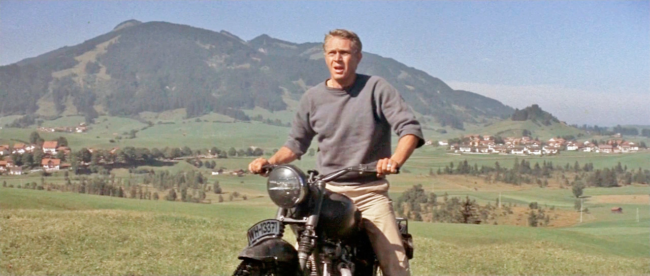 Laemmle Theatres and the Anniversary Classics Series present a 55th anniversary screening of one of the best loved adventure movies of all time, John Sturges' all-star production of THE GREAT ESCAPE.
Adapted from a nonfiction book by Paul Brickhill, the film told the mainly true story of the successful escape from one of the Nazis' top-security POW camps during World War II. The screenplay was written by James Clavell (King Rat, To Sir, With Love, Shogun) and W. R. Burnett (High Sierra, This Gun For Hire, The Asphalt Jungle).
In reality the prisoners were almost all British, but the producers decided to add some American characters to beef up the film's box-office potential. This decision was shrewd since it allowed for the casting of up-and-coming American actors Steve McQueen (who became a superstar largely as a result of this film), James Garner, James Coburn, and Charles Bronson. They were joined by British actors Richard Attenborough, Donald Pleasence, James Donald, and David McCallum. Because of his love of motorcycles, McQueen asked that a spectacular motorcycle jump be added to the escape sequence, and it became one of the iconic scenes in the film, even though it never really happened.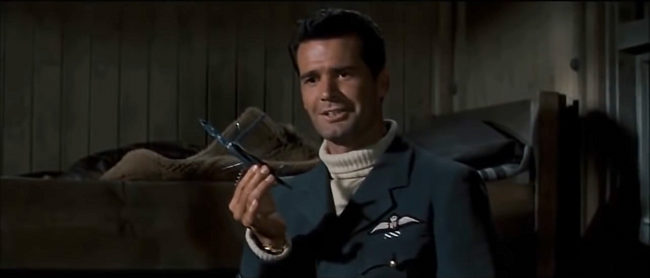 Released in the summer of 1963, the film emerged as one of the year's biggest box-office hits, and most reviews were ecstatic. Time magazine wrote, "Producer-director John Sturges has created classic cinema of action… The Great Escape is simply great escapism." Leonard Maltin called it "Rip-roaring excitement with marvelous international cast." Sturges was known for his direction of other action classics, including Bad Day at Black Rock and The Magnificent Seven, the latter of which also featured McQueen. Oscar winning cinematographer Daniel Fapp shot on location in Germany, and Elmer Bernstein provided the memorable score. Ferris Webster was nominated for an Academy Award for his taut editing.
The film's reputation has not dimmed over the years. In 2001 Esquire magazine called The Great Escape "the greatest boys' movie of all time." Writing in the Los Angeles Times to celebrate the film's 40th anniversary in 2003, Michael Sragow declared, "It is an escape, and it is great: It renders vividly and fully an experience that encompasses a panorama of emotions—fear, audacity, loyalty, panic, giddiness, intransigence, and fortitude."
THE GREAT ESCAPE screens Saturday, February 10th at 7:30pm at the Ahrya Fine Arts in Beverly Hills. Click here for tickets.
Format: DCP