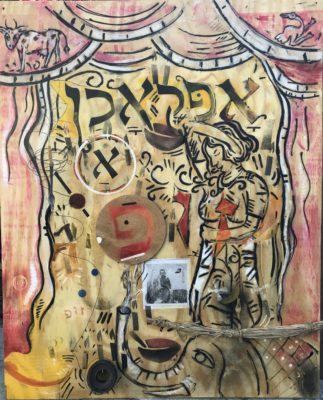 ART IN THE ARTHOUSE proudly presents COOK UP A SOUP AND OTHER TALES, featuring the works of visual artist and educator BENNY FERDMAN. Laemmle Theatres invites the community to join Ferdman for an artist talk, slide show on the big screen and refreshments on January 28, 11 am at Laemmle's Town Center 5. Most artwork is for sale at this free exhibit, which runs through May 2018.
About the Exhibit:
As a collector of materials and stories from human, natural and cultural landscapes, BENNY FERDMAN's artwork juxtaposes and reinterprets these images and tales to reclaim wonder in everyday life. Cook-Up a Soup And Other Tales is a collection of Ferdman's adventurous reclamation and reworking of Jewish iconography, folk motifs and works drawn from diverse narratives and East European Jewish culture, that once expressed itself in Yiddish. Raised in Los Angeles by Polish-Jewish immigrants, Yiddish was Ferdman's first language. He has lived, studied and worked in Boston, New York, New Mexico, France, California and Israel.
As a visual artist and educator, Ferdman's art has brought him art residencies, commissions of large scale sculptures, museum exhibitions and installations, redesigns of synagogues, design and fabrication of stage sets, and the distribution of arts-based curricula throughout North America and Israel. "Opkochen a Zup!" is about the big soup or as Ferdman says, "the soup of life into which we've all been tossed-and-rolled around on boiling waves, sometimes grabbing hold of a bleeding beet, riding on the back of a big bean, caressing a carrot, or poked in the eye by a prankster parsnip. In this very crowded pot, we meet and gather and then scatter, as the pot gets stirred and spilled into a bowl and consumed with a satisfying slurp!"
– Fern Wallach, Curator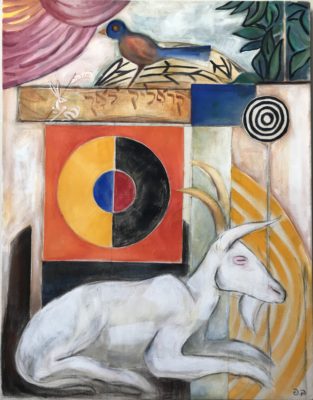 ART IN THE ARTHOUSE delivers a unique, alternative art-viewing experience. At Laemmle venues around town, we give our patrons opportunities to bond with notable and emerging visual artists. We focus on local talent and the robust L.A. arts scene, and apply high curatorial standards to exhibits lasting three to four months. A portion of the proceeds benefits the Laemmle Foundation which supports a variety of environmental and humanitarian non-profits doing inspired, essential work in our community.
Artist Reception:
Encino Town Center 
Sunday, January 28 11-1pm
RSVP here
This is a Free Event
Refreshments will be provided