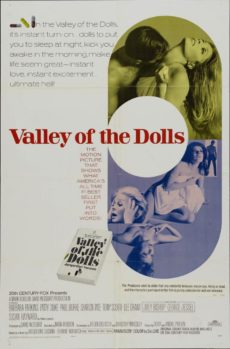 Laemmle Theatres and the Anniversary Classics Series present the 50th anniversary of the cult classic VALLEY OF THE DOLLS (1967). The misbegotten adaptation of Jacqueline Susann's sensational 1966 best-selling novel hit the silver screen for the Christmas movie season in 1967.
We close out the year with a special screening of this vintage "so-bad-its-good" milestone virtually 50 years to the day of the original opening, on December 28 at 7:30 PM at the Ahrya Fine Arts theatre.
Click here for tickets.
Susann's novel explored the cutthroat side of show business from the viewpoint of three young women aspiring for success. Barbara Parkins, Sharon Tate and Oscar winner Patty Duke (The Miracle Worker) play the female protagonists, with Oscar winner Susan Hayward (I Want to Live) as a grand dame Broadway actress battling to stay on top.
Hollywood veterans, director Mark Robson (Champion, Peyton Place), and writers Helen Deutsch (Lili, I'll Cry Tomorrow) and Dorothy Kingsley (Seven Brides for Seven Brothers, Kiss Me Kate), actually toned down the seamier aspects of Susann's book. However, they left enough lurid scenes about the early days of sexual liberation to titillate audiences in this slick and glossy film version.
The film is often cited as one of the worst movies ever made; unlike amateur "camp masterpieces" like Plan 9 from Outer Space or the more recent The Room, Valley of the Dolls has the distinction of being the product of a major Hollywood studio.
Among the contributing filmmakers were Oscar winners cinematographer William Daniels (The Naked City, How the West Was Won), costume designer Travilla (How to Marry a Millionaire) and legendary composer John Williams, who garnered his first Academy nomination for adapting Andre Previn's music score. The theme song became a major pop hit for Dionne Warwick in 1968.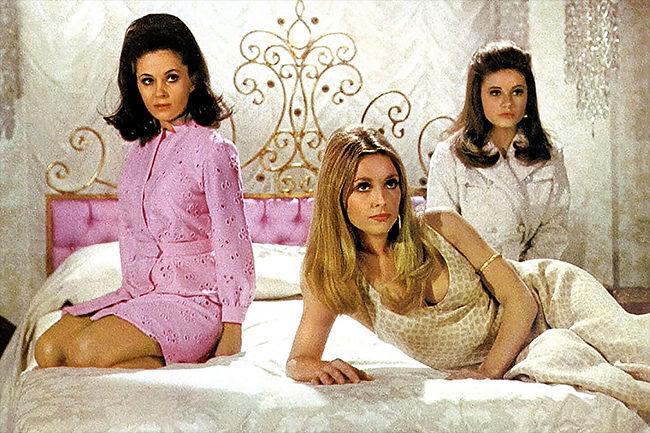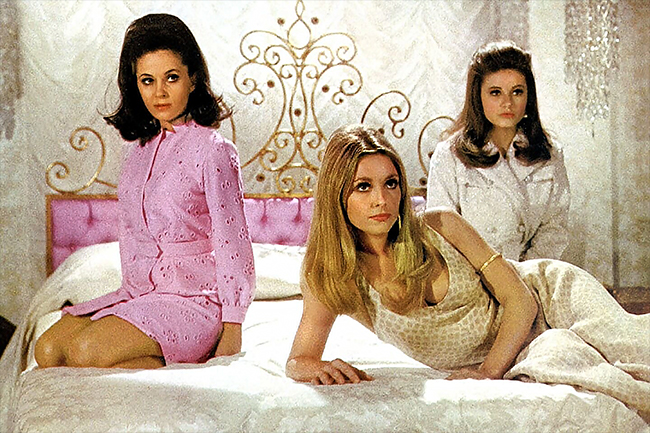 Critics of the day roasted the movie, but 20th Century Fox had the last laugh as audiences made the maligned movie a box office behemoth, the highest grossing film in that studio's history up to that time. The film developed a cult following through the years. Susan Hayward, who replaced Judy Garland after a few days into the shoot, partially escaped the critical brickbats, but the rest of the cast and the film could not hide.
Over this holiday season, see what Roger Ebert described in 1967 as a "dirty soap opera," and posed, "I don't understand how Patty Duke and Barbara Parkins got themselves into this movie." Similarly, Newsweek called it "one of the most stupefyingly clumsy films ever made by alleged professionals."
VALLEY OF THE DOLLS also features Lee Grant, Martin Milner, Tony Scotti, Paul Burke, Charles Drake, and Alexander Davion. Our 50th anniversary presentation will have a Special Introduction and a few surprises. Returns to the big screen for one show only Thursday, December 28 at 7:30 PM at the Ahrya Fine Arts Theatre in Beverly Hills.
Presented on DCP.