Laemmle Theatres and the Anniversary Classics Series present a 50th anniversary screening of one of the most delightful and innovative romantic comedies ever made, Stanley Donen's Two for the Road.
TWO FOR THE ROAD (1967)
50th Anniversary Screening
Q & A with Co-stars William Daniels and Jacqueline Bisset
Wednesday, September 27, at 7:00 PM
At the Royal Theatre in West L.A.
Click here for tickets
Audrey Hepburn and Albert Finney star as a couple trying to come to terms with the changes in their marriage over a 12-year period.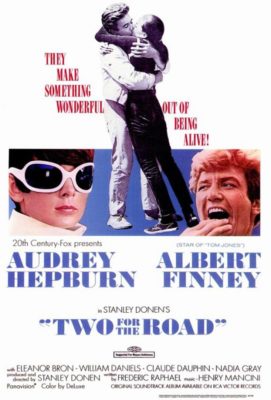 Screenwriter Frederic Raphael, who had won an Oscar for writing Darling two years earlier, received another nomination for Best Original Screenplay for his groundbreaking, time-traveling script for Two for the Road.
Donen, the director of such films as Singin' in the Rain, Seven Brides for Seven Brothers, Funny Face, and Charade, here created one of his most provocative works.
This excavation of a marriage centers on half a dozen trips through the south of France taken by Mark and Joanna Wallace (Finney and Hepburn).  But these trips are not presented in chronological order.  In fact, the different time sequences are intercut breezily throughout the film.  This experiment in non-linear storytelling was clearly influenced by some of the movies of the French New Wave during the 60s.  But this was the first major Hollywood film to try to translate that innovative approach to a more mainstream commercial picture.  Reactions were mixed at the time, but the film's reputation has grown in later years, and many now cite it as one of their all-time favorite romantic films.
Life magazine's Richard Schickel was one of the few to appreciate it in 1967.  As he wrote, "Mr. Donen has always been one of the truly stylish directors of light comedy, but here he has surpassed himself and in the process made it clear that the commercial filmmaker no longer has to be bound by the traditions of the past."  Leonard Maltin calls it a "perceptive, winning film… beautifully acted."
The supporting cast includes William Daniels, Eleanor Bron, Claude Dauphin, Nadia Gray, and Jacqueline Bisset in one of her very first screen roles.  Other key contributors to the film include cinematographer Christopher Challis, whose glorious images of the French Riviera dazzle the eye, and multiple Academy Award-winning composer Henry Mancini, who regarded this lyrical score as one of his personal favorites.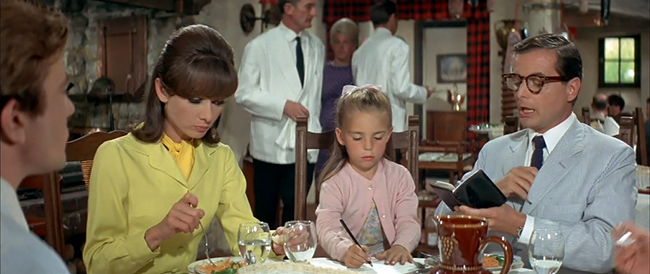 Co-star William Daniels, who portrays a hilariously finicky American tourist, had a busy year in 1967.  In addition to this film, he co-starred in The President's Analyst and also played Dustin Hoffman's father in The Graduate.  His other films include A Thousand Clowns, The Parallax View, Oh God!, and Warren Beatty's Reds.  He played John Adams in the acclaimed stage musical, 1776, and reprised his role in the 1972 movie version.  Daniels played John Quincy Adams in the TV miniseries, The Adams Chronicles, and also had major roles in the series St. Elsewhere, Boy Meets World, and Grey's Anatomy.
Two for the Road was one of her very first movies. Her many other films include Roman Polanski's Cul-de-Sac, Bullitt, Airport, The Grasshopper, Murder on the Orient Express, The Deep, George Cukor's Rich and Famous, John Huston's Under the Volcano, and Francois Truffaut's Oscar-winning classic, Day for Night. Tickets are available here.