At Laemmle we say, "Not Afraid of Subtitles." But this October, subtitles get downright horrifying! Join us along with Eat|See|Hear at the NoHo 7 for a full month of scary foreign films just in time for Halloween. We'll provide the subtitles, you'll provide the screams.
Our "Scary Subtitles" Throwback Thursday series begins on Thursday, October 5th with Nacho Vigalondo's TIMECRIMES! Doors open at 7pm, trivia starts at 7:30, and movies begin at 7:40pm. Check out the full schedule below!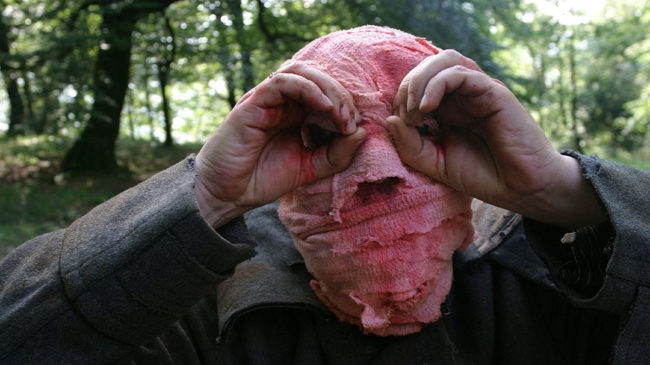 October 5: Timecrimes [Los Cronocrimenes]
Lauded short film director Vigalondo makes his feature debut with this tense, unstoppable vision of science and natural law gone awry. A man who accidentally travels back into the past and meets himself. A naked girl in the middle of the forest. A mysterious stranger with his face wrapped in a pink bandage. A disquieting mansion on the top of a hill. All of them pieces of an unpredictable jigsaw puzzle where terror, drama and suspense will lead to an unthinkable crime. Who's the murderer? Who's the victim? TIMECRIMES takes a bold premise and brings the rarely-tread time travel framework to pulse-pounding, brilliant new heights. In Spanish with English subtitles. TICKETS.

October 12: The Host [Gwoemul]
THE HOST was the talk of the 2006 Cannes International Film Festival. The film from critically acclaimed visionary director Bong Joon-ho had already garnered a substantial amount of international buzz— in 2006 it became the highest grossing Korean film of all time (over $90 million). Utilizing state-of-the-art special effects, courtesy of a creative partnership between Weta Workshop (King Kong, The Lord of the Rings) and The Orphanage (Harry Potter and the Goblet of Fire, Sin City), THE HOST is both a creature-feature thrill ride and a poignant human drama. In Korean with English subtitles. TICKETS.

October 19: Trollhunter [Trolljegeren]
Shot in a vérité style, TROLLHUNTER is the story of a group of Norwegian film students that sets out to capture real-life trolls on camera after learning their existence has been covered up for years by a government conspiracy. A thrilling and wildly entertaining film, TROLLHUNTER delivers truly fantastic images of giant trolls wreaking havoc on the countryside, with darkly funny adherence to the original Norwegian folklore. In Norwegian with English subtitles.  TICKETS.

October 26: Let the Right One In [Låt den Rätte Komma In]
A fragile, anxious boy, 12-year-old Oskar is regularly bullied by his stronger classmates but never strikes back. The lonely boy's wish for a friend seems to come true when he meets Eli, also 12, who moves in next door to him with her father. A pale, serious young girl, she only comes out at night and doesn't seem affected by the freezing temperatures. Coinciding with Eli's arrival is a series of inexplicable disappearances and murders … It doesn't take long before Oscar figures out that Eli is a vampire. But by now a subtle romance has blossomed between Oskar and Eli, and she gives him the strength to fight back against his aggressors. Frozen forever in a twelve-year-old's body, with all the burgeoning feelings and confused emotions of a young adolescent, Eli knows that she can only continue to live if she keeps on moving. But when Oskar faces his darkest hour, Eli returns to defend him the only way she can. In Swedish with English subtitles. TICKETS.
Details about November #TBT screenings are coming soon. Remember to check www.laemmle.com/tbt for updates!