Laemmle Theatres and the Anniversary Classics Series present a star-spangled double feature on the 4th of July in the popular monthly Twofer Tuesdays program – the 75th anniversary of Yankee Doodle Dandy (1942), paired with the 55th anniversary of The Music Man (1962). Both films represent unabashed celluloid tributes to the American spirit.
And so you won't miss fireworks, we screen the double feature (two films, one admission) as a special holiday matinee on July 4 at three locations: Ahrya Fine Arts, NoHo 7 and Pasadena Playhouse 7. Yankee Doodle Dandy at 1:00 pm; The Music Man at 3:30 pm. Presented on blu-ray.
Click here for tickets.
YANKEE DOODLE DANDY is the musical biopic of Broadway showman George M. Cohan, showcasing the Oscar-winning performance of screen legend James Cagney (Best Actor). The rousing patriotic musical was released during the early months of WWII, and was designed to lift the American psyche, which it accomplished resoundingly.
The film was nominated for eight Oscars, including Best Picture, Director (Michael Curtiz), and Supporting Actor (Walter Huston, playing Cohan's vaudevillian father). Roger Ebert noted, "the greatness of the film rests entirely in Cagney's performance. While he's in full sail, as in "Give My Regards to Broadway" or "Yankee Doodle Dandy," it's like regarding a force of nature." And Cohan himself, still alive at the time, is reputed to have said of Cagney's performance, "My God, what an act to follow."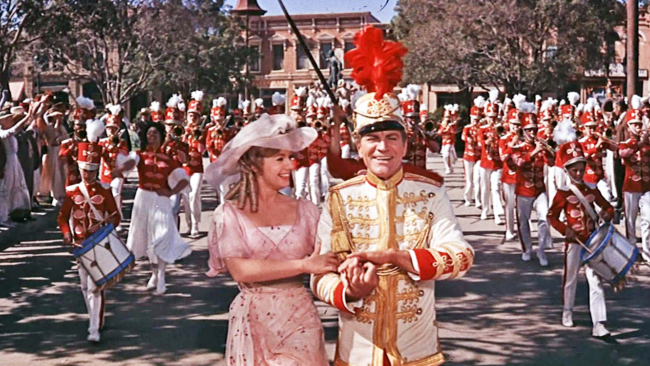 THE MUSIC MAN is the colorful screen adaptation of Meredith Willson's Tony-winning Broadway musical, preserving the triumphant stage performance of Robert Preston in the greatest role of his career. Pauline Kael aptly observed, "the star, Robert Preston, has a few minutes of fast patter—conmanship set to music—that constitute one of the high points in the history of American musicals."
Critics and public alike at the height of the Cold War embraced the ebullient celebration of early twentieth-century small town Americana, and the film was a box-office smash. Produced and directed by Morton Da Costa (Auntie Mame), with Shirley Jones, Buddy Hackett, Paul Ford, Hermione Gingold and a future Oscar-winning director, seven year old Ron Howard. Nominated for six Academy Awards, including Best Picture.
Both films feature the craftsmanship of Warner Bros. staff composer and musical arranger Ray Heindorf, who won his first Academy Award for Yankee Doodle Dandy, and his third and final Oscar for The Music Man twenty years later. Additionally, the two musicals were inducted into the National Film Registry for "historical, cultural, and aesthetic significance." Here is a rare opportunity to see them back on the big screen.