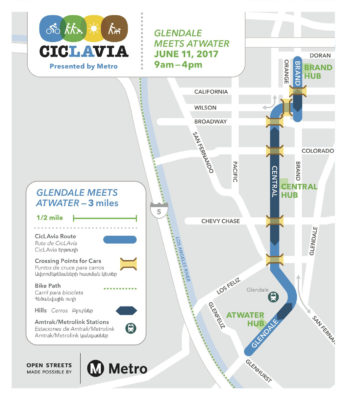 One of the most fun and free things to do in our fair megalopolis is CicLAvia and this Sunday, June 11 from 9 to 4 you can enjoy a brand new route between Atwater Village and Glendale. Streets will be closed to cars and open for cyclists, pedestrians, runners and skaters to use as a recreational space. The Laemmle Charitable Foundation has been a proud sponsor for several years and we are super excited that this will be the first CicLAvia in Glendale.
If you think of Glendale as the sleepy L.A. suburb it once was, you ought to see how things have changed.  Brand Avenue is now one of the more vibrant central business streets in the county, with tons of new mixed use developments. This Sunday is also a great chance to check out some of the hip restaurants and cafes in neighboring Atwater Village, or head over to Golden Road Brewing for some suds.
As it happens, our soon-to-come newest Laemmle theater is in Glendale! We'll have five screens and hope to start projecting good movies on to them this holiday season. The venue is not directly on the CicLAvia route (as was the case in NoHo and Pasadena), but we are just a block away, on the corner of Wilson and Maryland Avenues. The Laemmle Glendale Project is not yet open to the public, but you can certainly take a look at the building just by venturing a block off route. Pick up a pastry at Porto's and walk over …plus check out the historic Alex Theatre.
For updates, you can follow Laemmle Glendale on Facebook, Twitter, and Instagram!
This Sunday is a terrific, fun chance to see why we are so excited to be part of the all new stuff going on in Glendale. Tuesday was our ribbon cutting ceremony. Here are some photos: