Laemmle Theatres and the Anniversary Classics Series present two acclaimed courtroom dramas celebrating their 60th anniversaries as the second attraction in the popular Twofer Tuesdays program. 12 ANGRY MEN and WITNESS FOR THE PROSECUTION, both 1957 Academy Award nominees for Best Picture, will be paired as a double bill (two movies, one admission price) on May 2nd at the Ahrya Fine Arts, NoHo 7, and Pasadena Playhouse 7. Presented on Blu-ray.
Click here to buy tickets to the 5:15PM show of 12 ANGRY MEN, admission to the 7:15pm WITNESS FOR THE PROSECUTION is included. Click here to get tickets to the 7:15PM show of  WITNESS FOR THE PROSECUTION, admission to the 9:35pm 12 ANGRY MEN is included.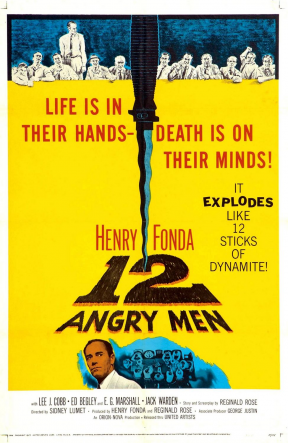 12 ANGRY MEN, about the deliberations of 12 jurors in a murder trial, was adapted by Reginald Rose from his 1954 teleplay, and directed by Sidney Lumet (Serpico, Dog Day Afternoon, Network) as his film debut. Henry Fonda, who also produced, heads a formidable cast of award-winning actors including Lee J. Cobb, Ed Begley, Jack Warden, E. G. Marshall, and Jack Klugman. Both Lumet and Rose were Oscar nominated for their work.
The film, as timely as ever, challenges an audience to confront ethnic and social prejudices in considering innocence or guilt based on reasonable doubt.
Roger Ebert called it "a masterpiece of stylized realism," enhanced by the expert black-and-white photography of Boris Kaufman, making the most of its one set in the jury room. Ebert further opined, "In its ingenuity, in the way it balances one piece of evidence against another that seems contradictory, 12 Angry Men is as meticulous as an Agatha Christie thriller." The movie was added to the National Film Registry in 2007.
WITNESS FOR THE PROSECUTION, based on an Agatha Christie play, is a spellbinding courtroom thriller about a murder suspect (Tyrone Power) defended by a wily barrister (Charles Laughton) against the testimony of the suspect's wife (Marlene Dietrich).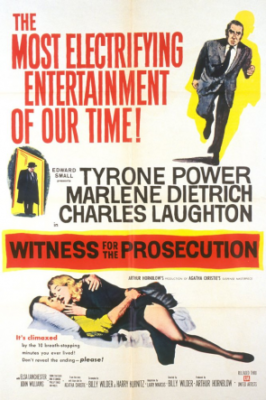 Billy Wilder, collaborating with writers Harry Kurnitz and Larry Marcus, strengthened the characterizations and added a surprise twist at the end, heightening the suspense throughout.
Laughton received one of the film's six Oscar nominations as Best Actor for his delightfully animated portrayal. Elsa Lanchester as the barrister's no-nonsense nurse afforded comic relief and copped a supporting actress nod. Wilder nabbed the sixth of his eight career directing nominations.
The film was a critical and commercial hit, with Bosley Crowther of The New York Times applauding "Wilder's splendid staging of some splintering courtroom scenes and a first-rate theatrical performance by Charles Laughton."
Audiences at the time were aghast and delighted by the film's wicked surprise ending, which they were urged to keep secret. Even the film's cast did not know the ending until the last day of shooting. Both films were later cited in the all-time top ten of the AFI's Courtroom Dramas category.
The Twofer Tuesdays double feature of 12 ANGRY MEN (shows at 5:15 pm and 9:35 pm) and WITNESS FOR THE PROSECUTION (shows at 7:15 pm) plays May 2 at three Laemmle locations: Ahrya Fine Arts, NoHo 7, and Pasadena Playhouse 7.