From Indiewire: "'I am not the father of neorealism on screen, you are,' said director Roberto Rossellini to novelist, playwright and filmmaker Marcel Pagnol, one of the most prolific artists in the early years of cinema. Now, many will soon be able to watch one of Pagnol's defining works in his career: the epic 'Marseille Trilogy,' a saga of love, labor and good food in 1930's France, which will return to theaters in a brand-new 4K restoration this January 27 at the Royal in West L.A.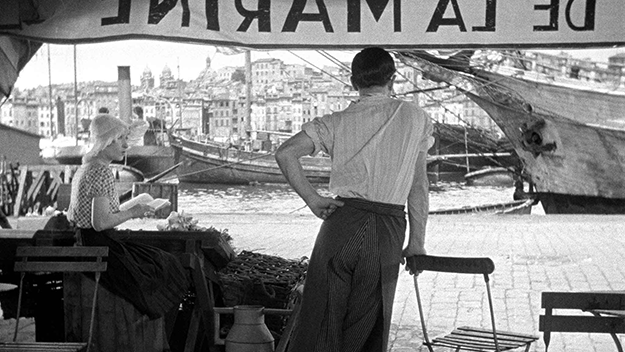 "The series follows young barkeep Marius (Pierre Fresnay) who is in love with the cockle monger Fanny (Orane Demazis), but cannot quell his wanderlust. Stretching out over years, their romance plays out amidst many provincial characters, like Marius' father César (Raimu), who struggles to keep his family and community together, and Honoré Panisse (Fernand Charpin), the aged widower vying for Fanny's hand.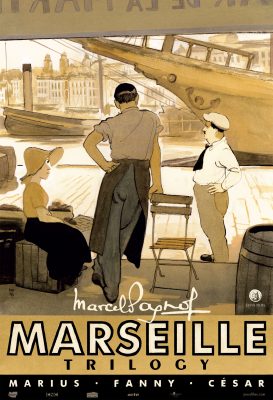 "Though directed by three different filmmakers, the trilogy is written by Pagnol and thus governed by his distinctive voice and style. The first film "Marius," directed by Alexander Korda, follows Marius and Fanny when they're young and destined to marry, but Marius cannot get over his urge to voyage on the open sea. The second film "Fanny," directed by Marc Allégret, follows Fanny's grief after Marius' sudden departure and her sudden pregnancy. The third film "César," directed by Pagnol, takes place twenty years after "Fanny" and follows Fanny's son Césariot (André Fouche) and his search for identity.
"The restored trilogy will premiere at the Film Forum in New York City on January 4 and at the Laemmle Royal Theatre in Los Angeles on January 27, courtesy of Janus Films." ~ Vikram Murthi, Indiewire
MARIUS: Marius and Fanny, two young shopkeepers on the harbor front of Marseille, always seemed destined to marry, but Marius cannot overcome his urge to break free and voyage on the open sea. His father, César, is oblivious to the crisis, as is Honoré Panisse, the aged widower who is also vying for Fanny's hand—until Fanny, knowing Marius's happiness lies in the balance, changes their lives forever.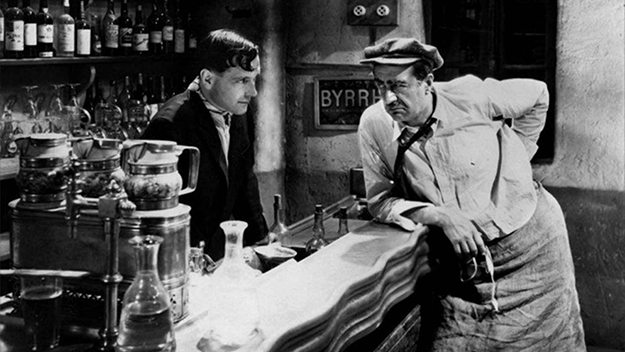 FANNY: Picking up moments after the end of Marius, this film follows Fanny's grief after Marius's departure—and her realization that she's pregnant. Panisse continues courting her and embraces the baby's impending arrival as a gift, so long as its paternity remains a secret. Fanny and Panisse wed, but after her baby's birth, Marius returns unexpectedly and demands what he believes is still his.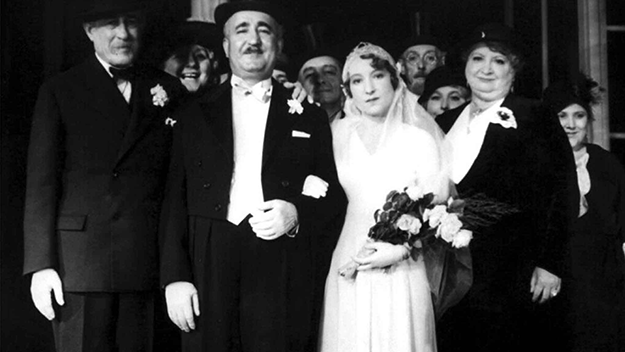 CESAR: Twenty years have passed: Fanny's son, Césariot, is in a military academy, and Panisse is on his deathbed, where the local priest demands that he tell his son about his biological father. Panisse refuses and dies; Fanny then divulges the secret, sending Césariot on a search for his own identity and for Marius, whose life has been fraught with calamity and poverty. Now free to follow her love, Fanny seeks out Marius as well, and with César's help resolves their star-crossed destinies.
Writing in the Hollywood Reporter, Jordan Cronk, said, "Opening on Jan. 27 at the Laemmle Royal Theatre in West Los Angeles is a new 4K digital restoration of "The Marseille Trilogy," three classic French films from the dawn of the sound era scripted by renowned playwright Marcel Pagnol. Inspired by the growing popularity and possibilities of the moving image, Pagnol proposed a cinematic adaptation of his 1928 play, Marius, to Paramount Studios, who agreed to fund the project and enlist director Alexander Korda to helm the production. Released in 1931, Marius would prove an instant success, so much so that Pagnol's and Korda's neorealist-stoking depiction of the French coastal town and a pair of daydreaming shopkeepers would soon inspire two sequels, Fanny and César, made in relatively quick succession throughout the '30s. Fanny, directed by Marc Allégret, follows Marius' now-pregnant girlfriend as she copes with her lover's absence and the advances of an older widower named Panisse, while César, directed by Pagnol himself, picks up 20 years later, following Fanny's son as he investigates his past and attempts to learn the identity of his true father. Totaling nearly seven hours, "The Marseille Trilogy" unfolds with an uncommon level of intimacy and nuance, veering from comedy to melodrama in one of the era's most expansive family sagas."
In the New York Times, Ben Kenigsberg wrote of the Trilogy, "Often remade and revisited but never equaled, Pagnol's Marseille trilogy — consisting of Marius and Fanny, Pagnol plays that were made into films by Alexander Korda in 1931 and Marc Allégret in 1932, and the straight-to-screen César, directed by Pagnol himself in 1936 — remains a classic of poetic French cinema. With cumulative emotional force, the three films, showing Jan. 4-12, tell the story of a gentle bar owner, César (the hulking, powerfully moving Raimu); his son, Marius (Pierre Fresnay), who loves Fanny (Orane Demazis) but can't resist the siren call of the world away from home; and the widower Panisse (Charpin), a sailmaker who wishes to marry Fanny."
Michael Sragow of Film Comment gushed, "The 'girl woos boy, girl loses boy' plot at the center of Marius (1931), Fanny(1932), and César (1936), playwright-turned-filmmaker Marcel Pagnol's seriocomic Marseille Trilogy, is the steam engine that drives a marvelous old-school carousel. What makes this tragicomic merry-go-round so intoxicating is not its speed or pace (slow and steady), but the beauty of its weather-streaked, hand-carved figures as they chug up and down and come full circle."