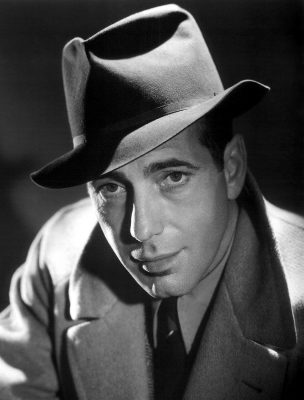 Laemmle Theatres and the Anniversary Classics Series present a tribute to screen legend Humphrey Bogart with a double feature of The Big Sleep (1946, 70th anniversary) and High Sierra (1941, 75th anniversary).
College students launched a passionate Bogart cult in the 1960s, and it is still going strong today. His tough screen persona gave dimension to a number of memorable characters, and we present two of those seminal roles in this Bogie double bill.
The Humphrey Bogart double feature will play on Wednesday, November 30 at three locations: the Royal in West LA, the NoHo 7 in North Hollywood, and the Playhouse 7 in Pasadena.
CLICK HERE to purchase tickets to the 5:10PM High Sierra (includes admission to the 7:30PM The Big Sleep).
CLICK HERE to purchase tickets to the 7:30PM The Big Sleep (includes admission to the 10PM High Sierra).
HIGH SIERRA is a 1941 heist film with impeccable crime story credits; it was written by W.R. Burnett (Little Caesar, Scarface) and John Huston (The Maltese Falcon, Key Largo) adapting Burnett's novel, and directed by Raoul Walsh (The Roaring Twenties, White Heat). Bogart plays "Mad Dog" Roy Earle, a weary, aging gangster who attempts to reject his life of crime. Co-star Ida Lupino (as his adoring moll) was actually top billed, but Bogart's acclaimed performance vaulted him to leading man status for the rest of his career. The film also cemented the strong partnership Bogart formed with Huston, and they would collaborate on several screen classics in the next decade.
THE BIG SLEEP is a masterpiece of film noir, released in 1946, directed by Howard Hawks and written by William Faulkner, Leigh Brackett and Jules Furthman adapting the Raymond Chandler novel. It marked the second teaming of Bogart with his wife Lauren Bacall, after the two created a screen sensation in Hawks' To Have and Have Not in 1944. The film is noted for its convoluted plot (just try to follow it) and rich atmosphere. Bogart's take on private detective Philip Marlowe pleased Chandler, who praised him as "so much better than any other tough-guy actor." The hero's sexy interplay with Bacall playfully flirted with contemporary censorship restrictions, as the duo wove the mystique of "Bogie and Bacall."