Some of the production company Merchant Ivory's greatest triumphs are adaptations of E.M. Forster novels. There are three of them: A Room with a View (1985), Maurice (1987) and Howards End (1992), which is one of their undisputed masterpieces. Based on Forster's 1910 novel, Howards End is a saga of class relations and changing times in Edwardian England. Margaret Schlegel (Emma Thompson, who won the Best Actress Oscar for this performance) and her sister Helen (Helena Bonham Carter) become involved with two couples: a wealthy, conservative industrialist (Anthony Hopkins) and his wife (Vanessa Redgrave), and a working-class man (Samuel West) and his mistress (Niccola Duffet). The interwoven fates and misfortunes of these three families and the diverging trajectories of the two sisters' lives are connected to the ownership of Howards End, a beloved country home. A compelling, brilliantly acted study of one woman's struggle to maintain her ideals and integrity in the face of Edwardian society's moribund conformity. We played Howards End to packed, rapt houses in 1992 and are thrilled to open this fully restored digital version September 2nd at the Royal, Playhouse, Town Center and Claremont.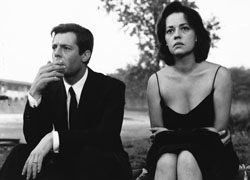 We'll also soon screen two by Michelangelo Antonioni: Blow-Up (1966) and La Notte (1961). The latter, just restored by our friends at Rialto Pictures and opening at the Royal and Playhouse on September 16, takes place during a day and a night in the life of a troubled marriage, set against Milan's gleaming modern buildings, its gone-to-seed older quarters, and a sleek modern estate, all shot in razor-sharp B&W crispness by the great Gianni di Venanzo. With Marcello Mastroianni and Jeanne Moreau starring, Antonioni creates his most compassionate examination of the emptiness of the rich and the difficulties of modern relationships. Writing in his book Devotional Cinema, Nathaniel Dorsky said of La Notte, "the real beauty of the film, the real depth of its intelligence, continues to lie in the clarity of the montage — the way the world is revealed to us moment by moment. The camera's delicate interactive grace, participating with the fluidity of the characters' changing points of view, is profound in itself."
Blow-Up, Antonioni's first English-language production, is widely considered one of the seminal films of the 1960s. Thomas (David Hemmings) is a nihilistic, wealthy fashion photographer in mod swinging London. Filled with ennui, bored with his "fab" but oddly desultory life of casual sex and drugs, Thomas comes alive when he wanders through a park, stops to take pictures of a couple embracing, and upon developing the images believes that he has photographed a murder. Vanessa Redgrave and Sarah Miles co-star. In his review at the time, Bosley Crowther of the New York Times recognized just the film's prescience, calling it "a fascinating picture, which has something real to say about the matter of personal involvement and emotional commitment in a jazzed-up, media-hooked-in world so cluttered with synthetic stimulations that natural feelings are overwhelmed." Blow-Up came out 50 years ago, so we are celebrating it on September 13th at the Monica Film Center as part of our Anniversary Classics series with film critic Stephen Farber.
Beginning September 30th at the Royal we are pleased to screen Chabrol 5 x 5, a series featuring five of Claude Chabrol's best, all fully restored and digitally remastered: Betty, The Swindle, Torment, Color of Lies and Night Cap. A founding father of French New Wave cinema, Chabrol's fascination with genre films, and the detective drama in particular, fueled a lengthy and celebrated string of thrillers, which explored the human heart under extreme emotional duress. Chabrol began as a contributor to the celebrated film magazine Cahiers du Cinema alongside such film legends as Francois Truffaut and Jean-Luc Godard before launching his directorial career in 1957. He quickly established himself as a versatile filmmaker whose innate understanding of genre tropes informed the complex triangular relationships at the center of many of his films, which frequently served as a prism through which commentary on class conflict could be obliquely addressed. The talent he displayed in depicting these dark deeds, as well as his status among the pantheon of French New Wave cinema, underscored his significance as one of his native country's most prolific and wickedly gifted craftsmen.