We've got four very cool music films coming up: On June 16 we'll screen Iggy Pop: Live in Basel 2015 at five of our venues, the Fine Arts, Claremont 5, NoHo 7, Playhouse 7 and Monica Film Center. We'll open The Music of Strangers: Yo-Yo Ma and the Silk Road Ensemble for week-long engagements on June 17th at the Playhouse and Town Center and a week later at Monica Film Center and Claremont. On July 1 we open the rock doc Breaking a Monster at the Monica Film Center. And finally we'll feature Nick Cave and Bad Seeds' One More Time with Feeling at the Fine Arts, Claremont, NoHo, Playhouse and Monica Film Center on September 8.
Iggy Pop: Live in Basel 2015 features this outstanding artist known for his outrageous and unpredictable stage antics as he performs at the Baloise Session in Basel, Switzerland, where he was honored with a 2015 Lifetime Achievement Award. This fantastic October 2015 show features all of Iggy's classics, including "I Wanna Be Your Dog," "The Passenger," "Lust for Life" and many more.
The Music of Strangers: Yo-Yo Ma and the Silk Road Ensemble is by the director of the Oscar-winning documentary 20 Feet from Stardom and the critically acclaimed Best of Enemies. It tells the extraordinary story of the renowned international musical collective created by legendary cellist Yo-Yo Ma and the Silk Road Ensemble, the diverse group of instrumentalists, vocalists, composers, arrangers, visual artists and storytellers as they explore the power of music to preserve tradition, shape cultural evolution and inspire hope.
For something quite different but no less inspiring, Breaking a Monster begins as the three members of band Unlocking the Truth are all in 7th grade, spending their weekends playing a blend of heavy metal and speed punk in Times Square, often drawing substantial crowds. They take on a manager: a 70-year-old industry veteran. With his guidance they are soon on their way to a 1.8 million dollar record deal and a precarious initiation into the music industry.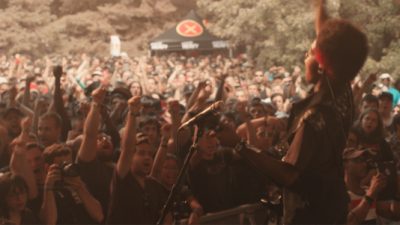 A unique one night only cinema event directed by Andrew Dominik (Chopper, The Assassination of Jesse James by the Coward Robert Ford, Killing Them Softly), One More Time With Feeling will be the first ever opportunity anyone will have to hear Skeleton Tree, the sixteenth studio album from Nick Cave & the Bad Seeds. The film will screen in cinemas across the world on 8th September 2016, immediately prior to the release of Skeleton Tree the following day.
Originally a performance based concept, One More Time With Feeling evolved into something much more significant as Dominik delved into the tragic backdrop of the writing and recording of the album. Interwoven throughout the Bad Seeds' filmed performance of the new album are interviews and footage shot by Dominik, accompanied by Cave's narration and improvised rumination.
Filmed in black-and-white and color, in both 3D and 2D, the result is fragile, raw and a true testament to an artist trying to find his way through the darkness.