They don't make them like Akira Kurosawa's magisterial RAN anymore, but the truth is, they didn't really make them like this regal epic back then either.

– Kenneth Turan, LA Times
Laemmle and Rialto Pictures are proud to present a stunning 4k restoration of Akira Kurosawa's RAN beginning March 18th at the Ahrya Fine Arts in Beverly Hills. Also starting March 18th is the re-release of AK, Chris Marker's (La Jetée) Kurosawa documentary filmed during the production of RAN.
In 1985, the production of RAN was possible thanks to a French-Japanese collaboration and 30 years later, Studiocanal and Kadokawa replicated this partnership to restore the film. The majority of the restoration work was done manually image by image, based on an original negative. Color grading was approved by Masaharu Ueda, one of RAN's three cinematographers and a close associate of Kurosawa's. The 4K restoration premiered at the 2015 Cannes Film Festival.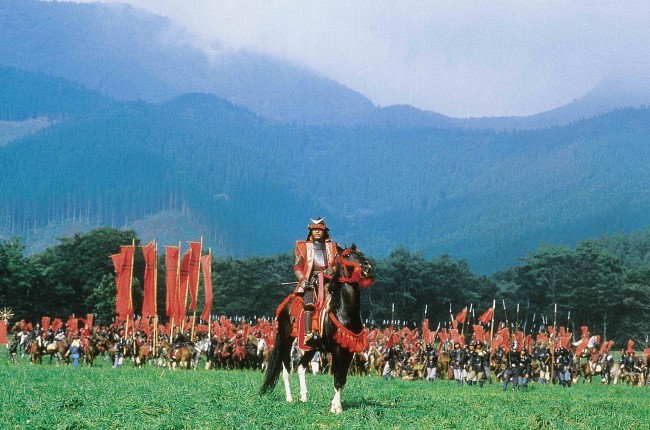 RAN (literally, "chaos" or "turmoil") brings together the great themes and gorgeous images of the director's life work. A brilliantly conceived meditation on Shakespeare's King Lear, crossed with Japan's 16th-century civil wars, it stars the great Tatsuya Nakadai (Kagemusha, High and Low, Yojimbo) as Lord Hidetora Ichimonji, an aging ruler who decides to abdicate and divide his land equally among his three sons, unleashing an intense power struggle. A spectacular adventure punctuated by epic battle scenes with breathtaking color and a visual splendor that remains unparalleled. Kurosawa storyboarded the entire film in watercolors ten years before production began.
Click here to purchase tickets to RAN.