In her new romantic comedy LOLO, director/co-writer Julie Delpy plays Violette, a 40-year-old workaholic with a career in the fashion industry who falls for a provincial computer geek, Jean-Rene (Dany Boon), while on a spa retreat with her best friend. But Jean-Rene faces a major challenge: he must win the trust and respect of Violette's teenage son, Lolo (Vincent Lacoste), who is determined to wreak havoc on the couple's fledgling relationship and remain his mother's favorite. Writing for the Tribune News Service, Katie Walsh wrote that "Delpy brings an unflinching perspective to the realities of balancing new love and motherhood, even while playing it for laughs." Boyd van Hoeij of the Hollywood Reporter described the film as "a high-concept comedy that's French actress-director Julie Delpy's most winningly mainstream concoction yet." And Adam Morgan of the Chicago Reader called the film "an infinitely quotable riot, especially when Delpy and Viard share the screen."
Ryan Lattanzio, film critic and staff writer at Indiewire's Thompson on Hollywood blog, published an interview with Ms. Delpy last week, the beginning of which we excerpt here.
"I'm starting to look like Christopher Walken. I've had people say that to me. It's a little scary," Julie Delpy told me during our interview about her sixth feature, "Lolo," which FilmRise opens stateside on March 11. It's the sort of flippant non-sequitur you can expect from the French writer, director and actress whose trademark is her manic charm.
So, true to the form of her neurotic and often coordination-impaired characters, Delpy was strapped into an ankle brace for an injury that, yes, she assured, she brought with her to the festival, where her new French farce made its North American premiere.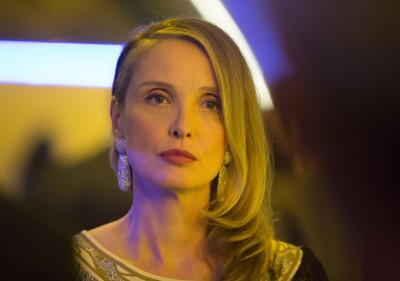 Delpy writes, directs and stars in "Lolo" as Violette, a forty-something single mother and fashion director living in Paris who is romantically fretting over Jean-René (Dany Boon), a less-than-hip engineer who is not in her league. Their courtship gets heated with anxiety and confusion as Violette's tyrannical teenage son Lolo (Vincent LaCoste) attempts to manipulate and control the relationship in psychotic ways, from drugging and humiliating Jean-René (during an encounter with Karl Lagerfeld!) to sprinkling his clothes with rash-making chemicals. It gets worse, which is why Delpy sees the film more as a comedic cousin of "Carrie" and "The Bad Seed" than as a rom-com.
Though perhaps too narrowly French to click with US audiences, "Lolo," while not quite as satisfying a meal as the "Before" trilogy or her "2 Days" films, is a sweet surprise from Delpy, a poison bonbon she injects with frank sexual dialogue that is true to how people talk. In France, anyway.
Ryan Lattanzio: Because of its sexual frankness, this movie is brash and funny in ways I wish more American films were.
Julie Delpy: Thank you. I like that. That comes up a lot, which says it's not happening much in American film. It's happening a little on American TV, like "Girls," but films are still a domain where women don't talk frankly about sex, which is weird. Of course, not all women talk about sex this way, like someone uptight in the Midwest — not that the Midwest is uptight, but you know what I mean! — or like some housewife who's never been out of their house. But I feel like a lot of women do talk like this. It was important for me that the women talked about sexuality, made fun of it, had no hangups, and were natural about it.
It's unusual to have your kind of female perspective. "Lolo" is politically incorrect, as were "2 Days in Paris" and "New York," and it's anti-puritanical. That's why I enjoyed it. Politically correct is so boring.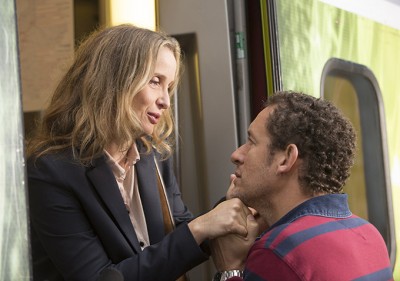 Yeah, it's so boring to me, and it's not even a question because I do it in every one of my films. Political correctness bores me. Especially as a woman, it's like you can't really be funny. It's changing a little bit, like Sarah Silverman is very politically incorrect. Sometimes she goes overboard. She always gets in trouble, which is really fun. I love the thing about her taking a shower with her mom and the water falling off her mom's pussy and onto the daughter.
She's here now too for her movie, "I Smile Back," as a drug-addicted housewife.
To get an award! [laughs] Is she paralyzed in the film? That's the question!
Well, looking at your broken ankle right now, it seems you're planning that for your next film.
I'm already working on it. I'm method acting right now.
In "Lolo" I also admired the "girl talk," the way the women talk about their rolls of fat, and their sagging, well, "pussies," as you wrote it.
Well that's how it is. We talk about those things. I wanted to describe the kind of women that don't censor themselves anymore. They've reached a level in life where they're comfortable talking about everything. They don't have those hangups about their looks as much. It comes so naturally for me to talk and write like this, because I talk like this!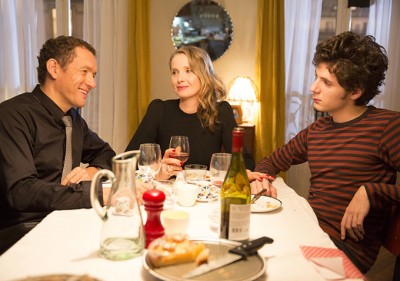 I'm sure everyone is asking for your assessment of the state of women directors working today, because the big question in the US is "Why so little?" Is that a question in France?
Not as much. There are many women directors, but there's a different approach. For example, it's very hard to be a mother and a director. As a director, you leave town a lot, for long periods of time, so it makes it very difficult to be with your kid. It's very hard for a mother to be away from her kid. It's hard for a father, but for a mother comes the guilt. I don't think men have that guilt of leaving. They might miss their kid, the emotional part is there. But they don't have the guilt of leaving. Society has put a guilt on women when you leave your child, which you can't help. Also it's more natural for a woman to feel guilty in general. I was talking to an actress who was talking to a woman director and she was telling me that women directors have kind of quit making features because now they're focusing on TV in LA, to be near their kids. I'm not making a film every year, so I can handle it. "Lolo" was shot in Paris, but the next film I want to do in the US to be as close as possible to my son.
To read the complete interview, click here.