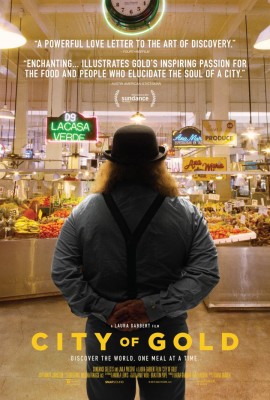 Update: Q&A with Pulitzer Prize-Winning Food Critic Jonathan Gold Sunday, March 27 in Pasadena. Click here for tickets.
You're going to be hungry after watching CITY OF GOLD, the new doc about L.A. food critic extraordinaire JONATHAN GOLD. But that's not going to be a problem.  Just hop on over to one of the restaurants listed below — all found on Gold's list of 101 best — conveniently located near your local Laemmle theater.
Don't forget to share your favorite spots in the comments. We'd love to highlight a few of your more budget-friendly picks!
CITY OF GOLD opens Friday, March 18th in Pasadena and Encino, and March 25th in NoHo and Santa Monica.
Pasadena:
Bulgarini Gelato in Alta Dena was #93 on Gold's list in 2014 but we're including it because it's available at our concession stand! We've been serving select flavors of Leo's famous gelato for years and customers love it.
About a mile west of out theater you'll find two spots on Gold's latest list. Numer 101 is Union, serving minimal, California cuisine. But if Basque-style tapas is more your speed, Ración is definely worth a visit.
Union. $$$. 37 E. Union St, Pasadena. map
Ración. $$$. 119 W. Green St, Pasadena. map
Encino:
This is awkward. West Valley eateries are conspicuously absent from Gold's list. No Valley jokes here. Instead, here are few of our favorites.
Batterfish is a small fish and chips shop where you can choose the type of fish, batter, and chips. Choose from traditional, chili, curry, lemon basil, or garlic ginger batters. I usually go with Cod, Chili batter, and traditional chips.
Sushi Yotsuya on Ventura Blvd in Tarzana serves traditional style sushi. The sign at the front says, "No! California Roll! Spicy Tuna! Trust the Chef!" Sit at the bar for an excellent omakase (chef's choice) meal. And whatever you do, don't stir wasabi or ginger into your soy sauce!
Vinh Loi Tofu is over in Reseda but their vegan dishes with homemade tofu are delicious and deserving of a special trip. It's one of Greg Laemmle's favorites!
Batterfish. $. 16200 Ventura Blvd, Encino. map
Sushi Yotsuya. $$$. 18760 Ventura Blvd, Tarzana. map
Vinh Loi Tofu. $. 18625 Sherman Way, Reseda. map
Santa Monica:
Ranking high at number five is Rustic Canyon. Gold says, "Rustic Canyon is a wonderful place… you're going to see the produce you were browsing this morning at the Santa Monica farmers market presented in the nicest possible way: fried Weiser Family Farms peewee potatoes with chicken gravy…"
After reading Gold's description of Cassia, number 17, it's moving to the top of my own Must Eat List. "Plum salad with wild arugula, egg custard with uni, a mayonnaisey jellyfish salad you could imagine encountering on the Left Bank and what is undoubtedly the best Singapore-style white pepper Dungeness crab in town."
Rustic Canyon. $$$. 1119 Wilshire Blvd, Santa Monica. map
Cassia. $$$. 1314 7th St, Santa Monica. map
North Hollywood:
Two more of Gold's favorites are in nearby Studio City. Coincidentally, both are run by former Top Chef contestants. Chris "CJ" Jacobson operates Girasol, #53, a New American bistro with farmers market vegetables and sustainably raised meats.
Number 79 on the list is Phillip Frankland Lee's The Gadarene Swine, a purely vegan bistro opened by a carnivorous chef.
As with Pasadena, select flavors of Bulgarini Gelato are available at the concession stand!
Girasol. $$$. 11334 Moorpark St, Studio City. map
The Gadarene Swine. $$$. 11266 Ventura Blvd, Studio City. map