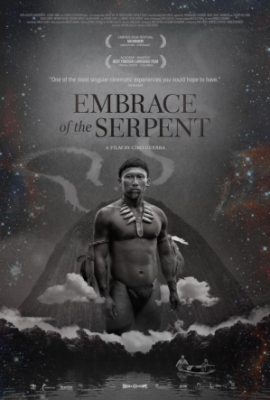 The Academy Awards are many things: entertaining, infuriating, moving, boring. For foreign films, our bread and butter, the Oscars can be quite effective at bringing attention to worthy movies from abroad. That done, the next challenge for cinephiles in the general public is to find a way to see them as they were meant to be seen: on a big screen with an audience in a movie theater. In a typical year, the five nominees for the Foreign Language Film Oscar include one or two that hit theaters months earlier, one or two that are currently in theaters, and one or two that may come out after the big night. This year, that night is February 28 and as luck would have it all five films have or will have Laemmle engagements between now and the Academy Awards ceremony.
The nominees are:
EMBRACE OF THE SERPENT ~ from Colombia, with its first nomination. We open the film February 26th at the Monica Film Center, Playhouse 7 and Town Center 5 and March 5 as a weekend morning show at the Claremont.
MUSTANG ~ from France, with its 37th nomination, its first since A Prophet in 2009. France hasn't won this award since Indochine in 1992. Now showing at the Playhouse; opening Friday at the Music Hall and February 5th at the NoHo 7 and Claremont 5.
SON OF SAUL ~ from Hungary, with its ninth nomination in this category. It has won once, in 1981 for Mephisto. It's now playing at the Playhouse and Town Center and opening January 29th at the Monica Film Center and February 12th at the Claremont 5 and NoHo 7.
THEEB ~ from Jordan, with its first nomination. Opens Friday at the Music Hall with weekend morning shows at the Playhouse and Claremont.
A WAR ~ from Denmark, with its 11th nomination. Denmark has taken this prize three times, including for Babette's Feast in 1987. We open it February 12th at the Royal, Playhouse and Town Center.
Avail yourself of these terrific films before the Oscar ceremony!