Laemmle's involvement with cycling events such as CicLAvia and Climate Ride stems not just from our love of the sport, but as a way to encourage alternative transportation and inspire creative thinking about our traffic and environmental challenges.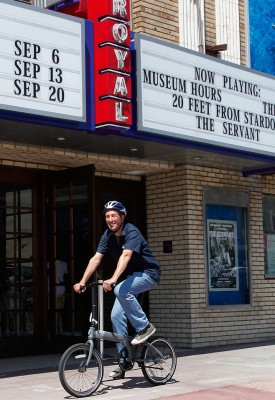 Last year we stepped up to the plate with our own event, the TOUR DE LAEMMLE, a 125-mile Greg Laemmle-led bicycle tour of all our theaters that included a ribbon cutting ceremony for the new bike corral parking outside of the NoHo 7.  This year, we're pleased to announce the 2nd Annual Tour on Sunday, July 19!  Departing at 7:00am from the Royal in West L.A., we'll visit the following venues in succession:
– Music Hall (Beverly Hills)
– Claremont 5
– Playhouse 7 (Pasadena)
– NoHo 7 (North Hollywood)
– Town Center (Encino)
– The new Monica Film Center in
Santa Monica (opening soon!)
– Back to the Royal around 7 PM (phew!)
Also, this year we are adding a brief stop at the future home of our Glendale venue (between the Playhouse and NoHo leg).
Tour de Laemmle is FREE to all participants. Riders can complete the entire 125-mile circuit or choose to do specific legs.
The tour is geared toward intermediate to advanced cyclists but we include a slower-paced, FAMILY-FRIENDLY leg along the S.F. Valley Orange Line Bike Path.  The tour will be supported with refreshments at most stops.
VISIT the TOUR WEBSITE for details and sign up!
About the route:
The Tour de Laemmle takes you on a powerful cultural and historical journey through the heart of the L.A. region. First and foremost, you will get the opportunity to see how so many diverse LA County neighborhoods are connected. El Serreno transitions to Alhambra which transitions to San Gabriel, and so forth.  Whether crossing the Arroyo Seco or the Sepulveda Pass, you'll also see how geographical features have shaped the city.  While riding on Huntington Drive or historic Route 66, you'll get to see how older roadways and railway right-of-way passages connected communities in the era before the modern interstate.  For early morning riders, you'll get to appreciate the beautiful buildings on Wilshire Boulevard as we traverse through mid-town.  And for those who join later in the day, you'll get to see how bike paths like the L.A. River bikeway and the Orange Line Bike Path can provide safe avenues of connectivity for those who choose to get around without a car.