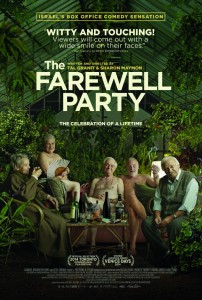 Right to Die laws were back in the news following the November 1, 2014 death of Brittany Maynard. Maynard was a California resident who moved to Oregon to take advantage of that state's Death With Dignity law. Since her death, two California State Senators have proposed a similar measure in California.
Serving as an entry point to discussing this issue is the hit Israeli comedy (yes, comedy), THE FAREWELL PARTY.
Together with Cedars Sinai Medical Center, we are pleased to offer an advance screening of THE FAREWELL PARTY on Tuesday, April 28 at 7:30 PM at the Music Hall Theatre in Beverly Hills. The screening is part of the Jewish Wisdom & Wellness program that is being produced by Cedars with events throughout the city.
Following the film, there will be a PANEL DISCUSSION in the theatre. Join Rabbis Susan Laemmle and Jason Weiner, ethicist Dr. Stuart Finder and grief expert Michele Prince, Director of OUR HOUSE Grief Support Center as moderator for a Jewish perspective on issues raised in the movie including aging with dignity, dementia, and end of life care. Although this is a movie, the issues in this movie are ones that many people have to deal with daily. Let's take dementia for example. Living with a relative with dementia can be tough for many families, which is why some may take it upon themselves to place their elderly relative in a facility like Lakeside Manor Assisted Living, so they can be looked after better. It's about making choices for the wellbeing of family and friends. The Farewell Party will be a film that many people will be able to relate to.
Tickets are $18 for the general public, but significant discounts are available for those purchasing tickets with their Premiere Cards. We will begin our regular engagements of THE FAREWELL PARTY starting June 5 at the Royal, Playhouse and Town Center, but we encourage you to take advantage of this early screening as the panel screening promises to address this complex issue in a way that will deepen the issues and emotions raised by the film.