Based on a true love story, the decades-spanning romance I Carry You with Me begins in Mexico between an aspiring chef and a teacher. Their lives restart in incredible ways as societal pressure propels the couple to embark on a treacherous journey to New York with dreams, hopes, and memories in tow. We'll open this moving film this Friday at our Playhouse and Town Center theaters, with additional venues in the subsequent weeks.
Reviews have been glowing. "A gay story and a border story, told in the universal language of love, family, and dreams." (Entertainment Weekly). "Ravishing and unshakable, Ewing's authentic film feels like the crossbreed between a painful memory and a hopeful dream about a place, a relationship and a fight for acceptance that's not political but entirely humanistic." (Remezcla) "Dreams make up both the form and substance of I Carry You with Me, Heidi Ewing's accomplished narrative feature debut." (Washington Post)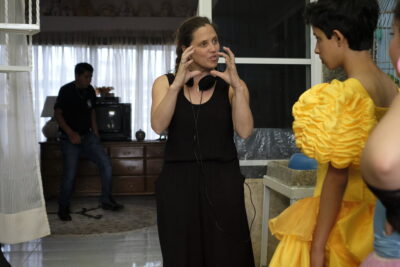 The New York Times recently published a Nicolas Rapold piece headlined "When Truth Melds With Fiction: Making I Carry You with Me. Here is the beginning of the piece:
"Heidi Ewing knew her friends Iván García and Gerardo Zabaleta for seven years before learning the full story of their journey. Iván and Gerardo first fell in love in the 1990s in Mexico, where they had to keep their relationship a secret. They emigrated separately to the United States, with Iván crossing the border first on foot at great risk.
"In New York, the men eventually thrived as restaurateurs, and today run two Williamsburg establishments. But, Ewing learned, the couple remained undocumented, like millions of others.
"Ewing, an Academy Award-nominated filmmaker ("Jesus Camp"), recognized a captivating romance when she saw one. But how could she portray her friends' in-between status, living in a world that kept forcing them to conceal basic facts of their existence?
"In I Carry You with Me , now in theaters, Ewing found her own in-between path by filming a hybrid fiction. Spanning childhood through adulthood, from Mexico City to New York, it's the rare movie that both stars actors — Armando Espitia plays Iván and Christian Vázquez plays Gerardo — and the people being portrayed.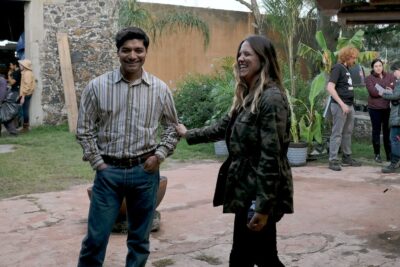 "But the project — Ewing's first fiction feature — looked a little different at first.
""It was so trial-and-error, because when they first told me their story, my go-to was, 'This is a beautiful documentary,'" Ewing said one morning at a Lower East Side eatery.
"Beginning around 2013, she filmed significant moments in Iván and Gerardo's lives — birthdays, restaurant openings, Cinco de Mayo. She also shot interviews with them (carefully lit and partly inspired by "My Dinner with Andre"). While gathering these materials for several years, she continued to make movies with her longtime co-director, Rachel Grady: "Detropia," "Norman Lear: Just Another Version of You" and "One of Us."
"Heidi Ewing directed a film about two of her friends and their love story, both following them in real life and using actors to portray them in narrative moments." Here are the first few paragraphs:
"But her documentary about her friends kept posing certain challenges. Hardly any archival photos or video of Iván and Gerardo existed, for example. And she usually steered clear of documentary productions that did not have a "current-day evolution of a story or narrative," as she put it.
"There was also the question of doing justice to her friends' romance.
""You want to see somebody fall in love. A documentary camera is never there — at the bar, the restaurant, the street corner, the subway, the bus, the glance between two people," Ewing said.
"She decided to cast actors to dramatize Iván and Gerardo's history together. The couple gave their full support.
Read the rest of the piece on the New York Times website.