Laemmle Theatres and the Anniversary Classics Series present this month's installment in our popular Anniversary Classics Abroad program: a landmark in the Italian neorealist movement and a special Academy Award winner in 1949, Vittorio De Sica's THE BICYCLE THIEF.
De Sica and screenwriter Cesare Zavattini, another of the key figures in this new wave of filmmaking, worked together several times over the course of their careers, on such films as Shoeshine, Umberto D, Miracle in Milan, Two Women, Boccaccio '70, and the director's final film, A Brief Vacation.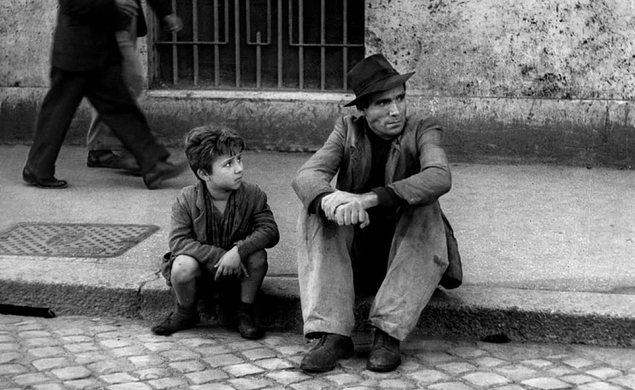 One of the hallmarks of the neorealist movement was to shoot on the streets of postwar Italy rather than in the studio and often to cast non-actors for increased verisimilitude. For THE BICYCLE THIEF, De Sica cast a newcomer and former factory worker, Lamberto Maggiaroni, in the title role.
The story, very loosely adapted from a novel by Luigi Bartolini, highlights the desperate circumstances of a working class family in Rome. The father finds a job as a courier, but when his bicycle is stolen, the family's livelihood is threatened. He and his young son set out to find the thief and retrieve the bicycle, but there turn out to be no easy solutions for this family in crisis. Enzo Staiola plays the son, and Lianella Carell plays the hero's wife.
In addition to its special Oscar (in the years before the Academy introduced a regular category for foreign-language films), THE BICYCLE THIEF earned a nomination for best screenplay.
Although some Italian critics disparaged the film for promoting a negative picture of postwar Italy, THE BICYCLE THIEF was embraced in most other parts of the world.
When it opened in America, the New York Times' Bosley Crowther raved, "Again the Italians have sent us a brilliant and devastating film in Vittorio De Sica's rueful drama of modern city life."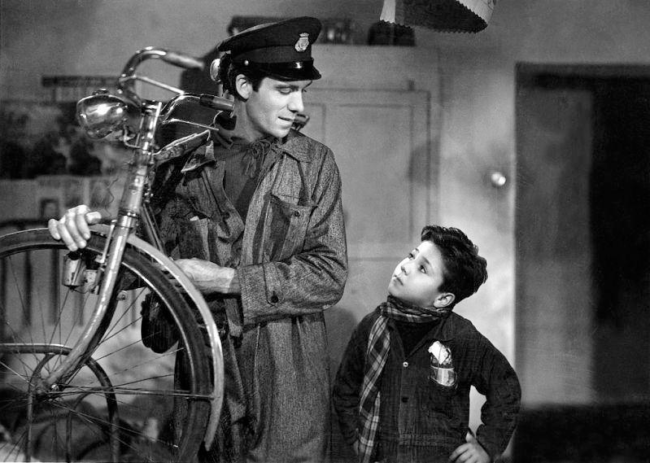 In 1952 the British magazine Sight and Sound polled international critics to name the ten greatest movies in cinema history, and The Bicycle Thief topped the list.
Endorsements continued over the years. Pauline Kael wrote, "This neorealist classic, directed by Vittorio De Sica and written by Cesare Zavattini, is on just about everybody's list of the greatest films."
When a restored version was released in the United States many years later, Kenneth Turan of the Los Angeles Times observed, "This film manages to appeal to the better angels of our nature in a way that only deepens as we grow older along with the film."
THE BICYCLE THIEF also inspired filmmakers in many other countries, including India's Satyajit Ray and Britain's Ken Loach.
Don't miss our 70th anniversary screenings on Tuesday, November 19, at 7PM in Glendale, Pasadena, and West LA. Click here for tickets.
Format: DCP