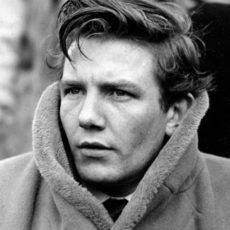 Laemmle Theatres and the Anniversary Classics Series present a tribute to Albert Finney with a 45th anniversary screening of MURDER ON THE ORIENT EXPRESS (1974) starring Finney in his Oscar-nominated role as Agatha Christie's master detective, Hercule Poirot.
Finney heads a glittering all-star cast in Sidney Lumet's lustrous film of Christie's mystery novel, a smash box-office hit and recipient of six Academy Award nominations that year, with Ingrid Bergman taking home the Oscar as Best Supporting Actress.
Set in 1935, the story centers on Poirot's attempt to solve the murder of a reviled American millionaire (Richard Widmark) while on the fabled train the Orient Express en route from Istanbul to Calais.
The bevy of suspects include Lauren Bacall as an obnoxious American, Ingrid Bergman as an anxious missionary, Michael York and Jacqueline Bisset as Hungarian royalty, Jean-Pierre Cassel as the conductor, Sean Connery as an English officer with Vanessa Redgrave as his companion, John Gielgud as Widmark's valet, Anthony Perkins as Widmark's secretary, Wendy Hiller as a Russian aristocrat, Rachel Roberts as her ladies' maid, and Martin Balsam as the Italian director of the railroad. All of that talent is sumptuously photographed and costumed by Oscar nominees Geoffrey Unsworth and Tony Walton.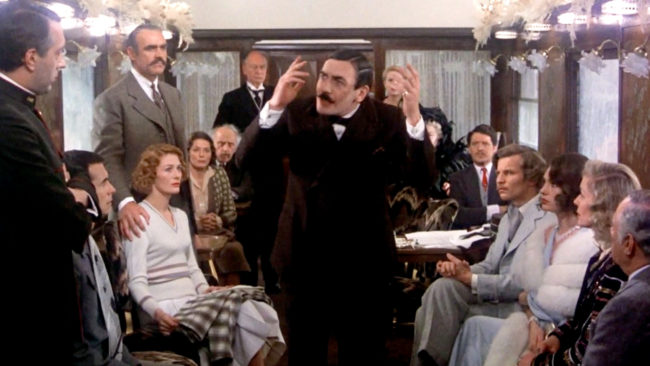 Lumet directs the cast and Oscar-nominated screenplay adaptation by Paul Dehn with a light touch, a tone reinforced by Richard Rodney Bennett's masterful score and Anne V. Coates' deft editing. The elegant entertainment impressed audiences and critics alike, with Judith Crist extolling in New York magazine, "Done from top to bottom with such affection and good humor that Dame Agatha's marvelously intricate whodunit becomes a joyous experience even for non-mystery buffs."
Albert Finney, who died on February 7 at age 82, first came to prominence in 1960's Saturday Night and Sunday Morning as an "angry young man" rebelling against a stifling working-class existence in industrial England.
In 1963 he achieved international fame as the rowdy, randy title character Tom Jones, the first of four best actor Oscar nominations. Others include his turn as Poirot in MURDER ON THE ORIENT EXPRESS, an aging, embittered actor in The Dresser, and an alcoholic British consul in Under the Volcano. A fifth nomination came for his supporting role as a pugnacious lawyer in Erin Brockovich, His last role was in the James Bond thriller, Skyfall, in 2012.
Finney had made his film debut opposite Laurence Olivier in The Entertainer in 1960, and was hailed as Olivier's acting successor. He spent long periods throughout his career on the stage, returning to movies and later television to fulfill his acting ambitions. He dismissed accolades that were his due, never attending an Oscar ceremony and turning down a knighthood, which he felt "perpetuated snobbery."
In 1962 he speculated to the media about why he was an actor. "I think I'm always watching and balancing, and sort of tabulating my emotions," he said. "And the only way I can lose myself is when I'm acting."
In MURDER ON THE ORIENT EXPRESS he is virtually unrecognizable as Poirot, gaining weight for the role, with slicked-down hair, a French moustache, and beady eyes to aid in the transformation.
Roger Ebert found his performance "brilliant, and high comedy," and offered an approving appraisal in his review. "It ends with a very long scene in which Poirot asks everyone to be silent, please, while he explains his various theories of the case. He does so in great detail, and it's fun of a rather malicious sort watching a dozen high-priced stars keep their mouths shut and just listen while Finney masterfully dominates the scene."
The 45th anniversary screening of MURDER ON THE ORIENT EXPRESS and tribute to Albert Finney take place at the Royal in West Los Angeles on Thursday, March 7 at 7:00 PM. Click here for tickets.
Format: DCP