Laemmle Theatres and the Anniversary Classics Series present the latest installment in our popular Anniversary Classics Abroad program, 60th anniversary screenings of the Oscar winner for Best Foreign Language Film of 1958, Jacques Tati's MON ONCLE.
Tati made only six feature films over the course of his career (including Jour de Fete, Playtime, and Traffic), and this comedy—his first film in color—is considered one of the highlights.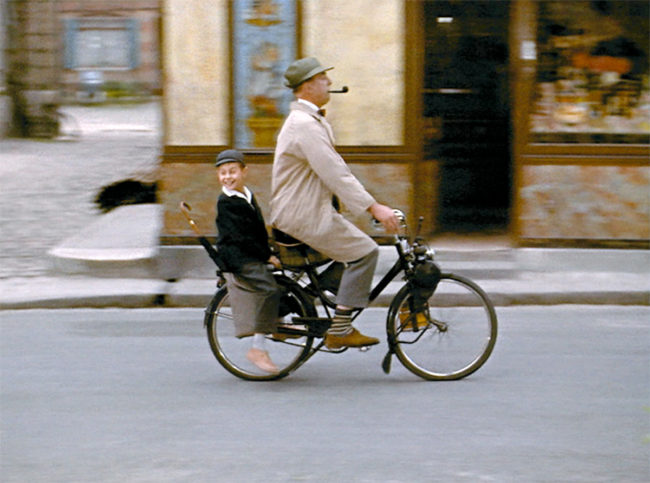 Tati had introduced the character of Mr. Hulot in Mr. Hulot's Holiday, his highly praised film from 1953. He once again plays the character of Hulot in this more ambitious satire of modern technology and its dehumanizing effect on family life. Jean-Pierre Zola and Adrienne Servantie play a married couple in thrall to a sterile, workaday world. Alain Becourt plays their young son who finds liberation with his playful uncle.
As in many of Tati's films, Mon Oncle pays homage to the masters of silent comedy. There is very little dialogue in the film; instead the humor is visual, where the slightly futuristic settings are as important as the human characters. The ingenious sets were designed by Jacques Lagrange at the Victorine Studios outside Nice.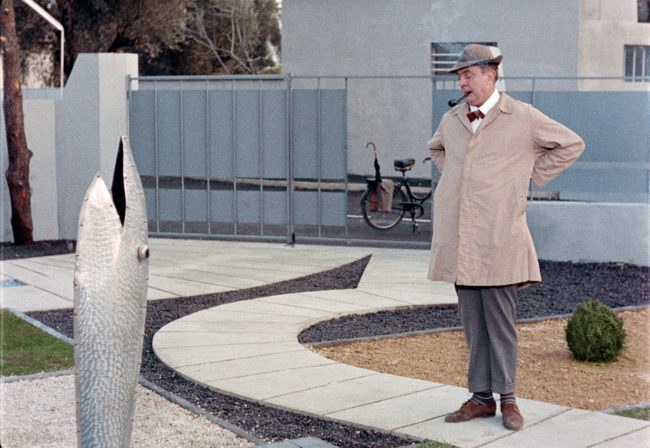 Variety wrote, "Jacques Tati's film has inventiveness, gags, warmth and a 'poetic' approach to satire." Leonard Maltin declared, "Tati's first color film is a masterpiece… Continuous flow of sight gags (including the funniest fountain you'll ever see) makes this easygoing, nearly dialogue-less comedy a total delight."
The film has also had an enduring impact on many other directors. At the AFI Festival in 2010, David Lynch presented a screening of Mon Oncle and announced that it was one of the films that had the greatest influence on him.
MON ONCLE screens Wednesday, October 17, at 7pm at the Royal, Town Center, and Playhouse. Click here for tickets.