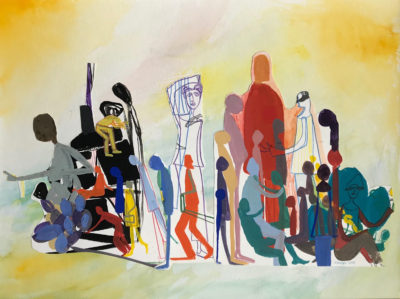 ART IN THE ARTHOUSE proudly presents our latest NoHo exhibit CALEY O'DWYER: SCORING MOVEMENT. These bold, modern mixed media works are for sale and on display till October, 2018. Come on in and check out our gallery.
About the exhibit
CALEY O'DWYER is a practicing artist, writer and therapist based in Los Angeles at the Brewery Arts Complex. His body of work serves as unmistakable proof that the professional triangle of Art, Writing, and Therapy inform each other. In this series, O'Dwyer explores multiple selves through deft application in a variety of media. Each figure moves through space playing with time and boundaries, visually appearing as a horizontal musical score. Gouache and collage cutouts, and literal scratching to create and understand surface, are key aesthetics. The dynamic intersection of pluralism and the singular self through syncopation and movement is the result of O'Dwyer's intelligent, clear vision.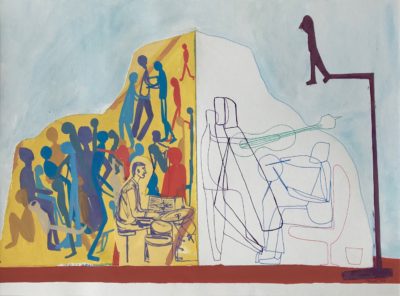 As a licensed therapist, O'Dwyer works with artists and creatives. The "artist as therapist as artist" is a very real dialogue that plays itself through line and the duplication of lithe figures, both urban in their action and oceanic fresh in lime colors and tones.After earning an MFA in creative writing from UC IRVINE, O'Dwyer was awarded the Academy of American Poets Fellowship prize, nominated for the Pushcart Prize, and has been a recipient of a Helene Wurlitzer grant for poetry. He currently teaches creative writing at Antioch University in Los Angeles. He enjoys being able to present new creative writing prompts to his students and have them submit such different variations of the same prompt. Teaching people how to explore prompts and improve their writing really motivates him to improve his own work. O'Dwyer's second book, Light, Earth and Blue, features poems written in response to the abstract expressionist paintings of MARK ROTHKO. The poems were featured at the TATE MODERN in London as part of a 2008 Rothko retrospective. Enjoy this exploration of the artist moving through a post-modern space.
– Joshua Elias, CURATOR
5240 Lankershim Blvd.
North Hollywood, CA 91601
310-478-3836