Laemmle Theatres and the Anniversary Classics Series present a 65th anniversary screening of one of the most beloved romantic films of all time, William Wyler's ROMAN HOLIDAY. In fact, when the American Film Institute conducted a poll surveying the greatest movie romances, Roman Holiday ranked #4, right behind such classics as Casablanca and Gone With the Wind.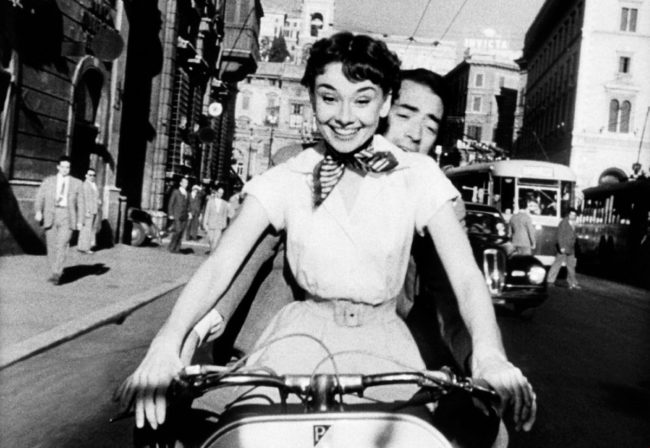 The film was nominated for 10 Academy Awards in 1953, and, in her first major screen role, Audrey Hepburn won the Oscar for best actress, launching one of the most dazzling careers of the next two decades. Future Oscar winner Gregory Peck co-stars.
After World War II, many Hollywood productions began to take advantage of overseas locations that obviously had not been available when the war was raging. Roman Holiday was filmed in its entirety in the Eternal City, with memorable scenes taking place at the Colosseum, the Trevi Fountain, and other iconic locales, with interiors shot at burgeoning Cinecitta Studios.
The story concerns a young European princess who, while visiting Rome, decides to flee her official responsibilities and explore the city on her own. She meets a reporter, played by Peck, and he becomes first her guide and then her romantic partner. Peck has an ulterior motive because when he learns her identity he imagines landing an exclusive inside story that will turn his colleagues green with envy. When the two begin to fall for one another, however, he begins to question his journalistic mission. Can the princess and the commoner overcome all the forces conspiring to keep them apart? That question is left unanswered until the memorable, bittersweet finale.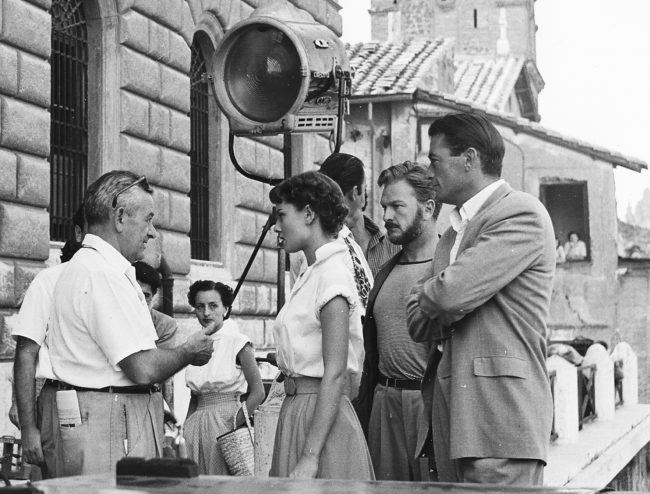 Dalton Trumbo provided the Oscar-winning original story, but because he was blacklisted during the 1950s, his name could not appear on the film, which was credited to Ian McLellan Hunter and John Dighton. In 1993, 40 years after the film's premiere, Trumbo's widow finally received the statuette. Wyler had already won two Oscars for directing Mrs. Miniver and The Best Years of Our Lives, and he would win a third a few years later for Ben-Hur. He received a nomination for his work on Roman Holiday, and with 12 nominations over the course of his career, he has a record that has not been matched by any other director and probably never will be equaled.
The critics were enchanted by the film in 1953, and reviews have remained rapturous over the years. Pauline Kael wrote, "This is the picture that made Audrey Hepburn a movie star… (Wyler's) calm, elegant style prepares the scenes and builds the character until she has the audience in thrall, and when she smiles we're all goners."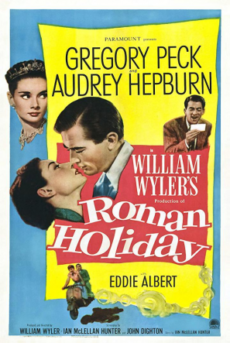 The Boston Globe's Ty Burr praised "a classic of romantic wish fulfillment." And in England, The Observer's Philip French commented aptly, "Only the big screen can do justice to its scintillating monochrome images."
Franz Planer and Henri Alekan were cinematographers, and Georges Auric and Victor Young provided the music. Edith Head designed the Oscar-winning costumes. Eddie Albert, Harcourt Williams, and Margaret Rawlings co-star. The film was added to the National Film Registry in 1999.
Catherine Wyler has produced documentaries for PBS and other companies. She also produced the narrative feature Memphis Belle, which was inspired by a documentary that her father directed during World War II. She will participate in a Q&A at the screening.
Join us for this 65th anniversary screening on Sunday, July 22, at 4pm at the Ahrya Fine Arts in Beverly Hills. Click here for tickets.
Please note: Eastbound Wilshire Blvd. will be closed in front of the Fine Arts on the day of this screening. The sidewalk will remain open. For passenger drop-off we suggest using Le Doux Road or Stanley Drive. Plenty of parking is available along La Cienega and at nearby lots.