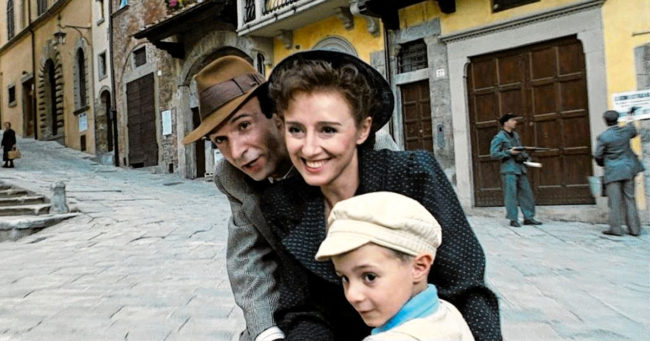 Laemmle Theatres and the Anniversary Classics Series present the latest offering in our Anniversary Classics Abroad series: 20th anniversary screenings of the Academy Award-winning Best Foreign Language Film of 1998, Roberto Benigni's LIFE IS BEAUTIFUL.
The film was nominated for seven Oscars in all, including Best Picture of the year, an unusually strong showing for a foreign language film. It also won an Oscar for Benigni as Best Actor, the first time in the Academy's 70-year history that a male actor had won the top prize for a foreign language performance.
Nicola Piovani also won for his lyrical musical score. In addition to its awards, the film scored an enormous success at the box office. It became the highest grossing foreign language film at the U.S. box office up to that point, and its success reverberated all over the world. With well over $200 million earned worldwide, it remains one of the most financially successful of all foreign language titles.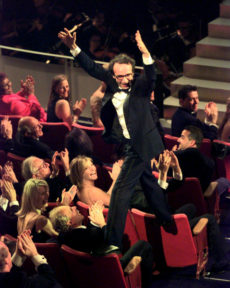 Benigni was primarily known as a comic actor and filmmaker when he decided to shift gears and tackle the dark realities of the Holocaust in this daring tragicomic fable. The first half of the film plays as a romantic comedy, with Benigni cast as a Jewish Italian bookshop owner who is determined to woo a spirited teacher (played by Benigni's real-life wife, Nicoletta Braschi) despite formidable obstacles. After they marry and have a young son, the tragic realities of the Second World War intrude on their lives, as they are all sent to a Nazi concentration camp. In a desperate desire to save his son, Benigni's Guido devises an elaborate game to keep the boy distracted from the horrors around him.
Benigni, who directed and wrote the screenplay with Vincenzo Cerami, said that he was inspired by the memoirs of a Jewish Auschwitz survivor named Rubino Romeo Salmoni, whose book, In the End, I Beat Hitler, told how a sense of dark humor helped him to transcend his enslavement. The cast of the film also includes Giorgio Cantarini as the couple's young son, Giustino Durano as Guido's beloved uncle, and veteran German actor Horst Buchholz as a German doctor who befriends Guido and his son in the camp.
Although there were a few critics who were discomfited by the film's whimsical approach to a historical tragedy, most endorsed the film enthusiastically. The Washington Post's Michael O'Sullivan called the film "sad, funny and haunting." Kenneth Turan wrote in the Los Angeles Times, "its sentiment is inescapable, but genuine poignancy and pathos are also present, and an overarching sincerity is visible too." Leonard Maltin hailed "a unique and beguiling fable that celebrates the human spirit."
LIFE IS BEAUTIFUL screens Wednesday, July 18, at 7pm at the Royal Theatre, Town Center, and Playhouse. Click here for tickets.
Format: Blu-ray