Laemmle Theatres and the Anniversary Classics Series present a 30th anniversary screening of THE WHALES OF AUGUST (1987), a poignant drama featuring an all-star cast of actors from Hollywood's Golden Age.
Silent screen legend Lillian Gish and two-time Oscar winner Bette Davis play elderly sisters spending the summer on an island off the coast of Maine, struggling with jealousy, loss and regret.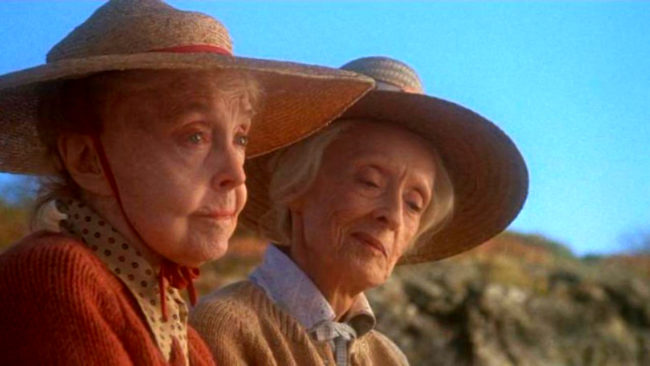 The supporting cast includes Ann Sothern, who earned an Oscar nomination for Best Supporting Actress for her performance in the film, screen veterans Vincent Price (who co-starred with Davis in The Private Lives of Elizabeth and Essex in 1939 and went on to become the master of horror for producer Roger Corman) and Harry Carey Jr., one of the favorite actors of director John Ford.
The film is adapted from a play by David Berry and was directed by Lindsay Anderson (the acclaimed British director of This Sporting Life, If…, and O Lucky Man), making his American film debut.
The lovely cinematography of the windswept New England coast is by Mike Fash, and Anderson's frequent collaborator Alan Price provided the musical score.
Margaret Ladd, Mary Steenburgen, and Tisha Sterling (Sothern's daughter) portray the three women in flashbacks to their youth.
The New York Times' Vincent Canby wrote, "With its two beautiful, very different, very characteristic performances by Miss Gish and Davis… Lindsay Anderson's 'Whales of August' is a cinema event."
Leonard Maltin called it "an exquisitely delicate film," adding that "Gish and Davis dominate the film, a lifetime of movie memories in each classic face."
Producer Mike Kaplan is a long-term member of the Academy of Motion Picture Arts and Sciences and a marketing and sales veteran who first met Gish when he worked on her 1967 film, The Comedians, early in his career. Over the years he consulted for many top directors, including Stanley Kubrick, Robert Altman, and Mike Hodges.
Kaplan produced Barbet Schroeder's The Valley, Hodges' I'll Sleep When I'm Dead starring Clive Owen and Malcolm McDowell, and Never Apologize, a documentary that recorded McDowell's one-man stage show about his collaboration and friendship with Lindsay Anderson.
The film and Q & A will be followed by a special bonus screening of revealing interviews with the five principal actors of The Whales of August, filmed on location in Maine at the time of the shooting.
THE WHALES OF AUGUST screens at 7:30pm on Wednesday, November 8th at the Laemmle Town Center 5 in Encino. Producer Mike Kaplan will participate in a Q&A at the screening. Click here for tickets.
For more about our Anniversary Classics Series, visit www.laemmle.com/ac and join our Facebook Group.