Art in the Arthouse revisits the works of ROBERT CENEDELLA with a new showing of his special edition silk screens entitled ART ON ART. Cenedella's series, currently on display in Claremont until September 17, is a part of The Laemmle Collection.
About the Exhibit:
Previous works by Robert Cenedella, shown at Laemmle's Monica Film Center along side the documentary film ART BASTARD,  gave an in-depth example of what is controversial. Our current show, reveals another side of the artist. The numbered editions of silk screens on archival paper, are less political statement, more tailored etchings of clever positioning and whimsical humor. They are signed by the artist and museum framed to ensure preservation with handmade Italian frames from all natural materials.
"I am a product of starting my career circa 1959 just when all the "isms" came to be – Absract Expressionism, Abstract Illusionism, Constructivism, Minimalism, Hypermodernism, etc – and the very kind of work that I was developing under GEORGE GROSZ at the Arts Students League of New York was literally being not just looked down upon, but verbally scorned and ridiculed by art critics, art schools and the public in general.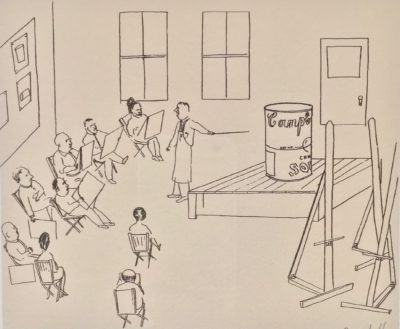 Having fought the notion that skills were no longer necessary, in particular drawing, PROTEST, has in some ways become part of my work. This has not been intentional on my part; it just has become a fact of sorts after fifty years of having never fit into the ART ESTABLISHMENT on any level.  To this day, my work continues to be considered controversial one way or another."
 – Robert Cenedella, Artist