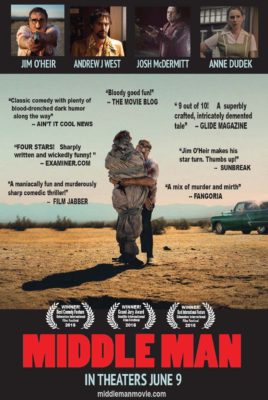 MIDDLE MAN actors Jim O'Heir and Andrew West will participate in a Q&A after the 7:30 PM screening at the Music Hall on Friday, June 9. Mr. O'Heir will also introduce the 9:55 screening.
Lenny Freeman is a straight-laced old-school accountant with a dream; to become a famous stand-up comedian. The problem is he's not very funny. Not even close.
When his mother dies, leaving him nothing but debt and her '53 Oldsmobile, Lenny hits the road to chase his dream in Vegas and auditioning for Monte Guy's annual "Stand-Up Stand-Off". Along the way(and against his better judgment)Lenny picks up a mysterious traveler named "Hitch" and his trip quickly turns from bad to worse when they stop at a small-town bar.