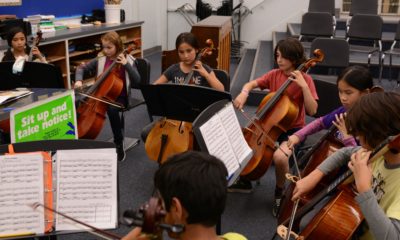 RSVP USING EVENTBRITE
This is a Free Event
Please join us at the Monica Film Center on Sunday, June 4, 2017 for another memorable Laemmle Live event.  This month we proudly present some of our youngest local musicians, Elemental Music Chamber Ensembles. 
Elemental Music is a 501c3 nonprofit organization in Santa Monica whose mission is to inspire, train and nurture young musicians through high quality, engaging ensemble programs. The concert will feature a diverse mix from traditional Bach chorales to arrangements of contemporary soundtracks from television shows and movies.
Elemental Strings was created in 2004 by a Santa Monica Malibu Unified School District teacher who wanted to find a way to engage elementary school-aged music students and entice them to continue studying music into middle school. All musical selections encourage students to play their own parts confidently, discover how their parts fit within a larger whole, and listen and collaborate without the lead of a conductor. During the first two-thirds of each academic year, students develop the skills needed to play in an orchestra. In the final part of the year, the focus shifts to playing in chamber ensembles, where students are equal collaborators. The program began with a small group of 25 students, but has trained over 1,000 students in the years since. Elemental Strings is the anchor of the much larger Elemental Music, which provides training programs for elementary school-aged band, choir, and guitar students as well as middle school string students.
EVENT DETAILS
Sunday, June 4, 2017
11:00 AM
Monica Film Center
RSVP USING EVENTBRITE
This is a Free Event