The following post is by food historian Linda Civitello:
Terence Davies' masterpiece, A Quiet Passion, has a scene where Emily Dickinson bakes bread and later is informed that it won a prize. This is true. In 1856, Dickinson's Brown Bread won second prize at a local fair. One of the judges was her sister Lavinia—"Vinnie"—played by Jennifer Ehle, who was Elizabeth Bennet in the mini-series Pride and Prejudice, and the miscalculating intelligence agent in Zero Dark Thirty. Dickinson's prize-winning bread was made from rye and cornmeal because wheat did not grow well in New England. The bread, like New Englanders such as Dickinson's father, played by Keith Carradine, was solid with a thick, hard crust; leftovers were used to scrub walls. This staple bread nourished New Englanders until the end of the 19th century.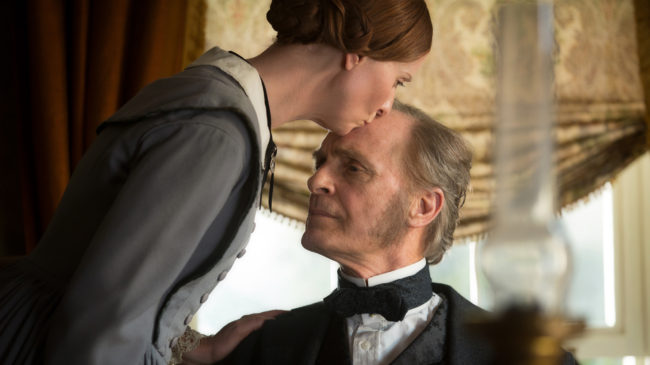 Emily Dickinson also nourished herself with language: "He ate and drank the precious words, / His spirit grew robust." Hunger and thirst are recurring metaphors that reflect Dickinson's profound loneliness and awareness of her position on the fringes of society. Often, she is nose-pressed-against-the-glass observing others at the banquet of life while she gets only crumbs: "God gave a Loaf to every Bird— / But just a Crumb—to Me—". She also takes a sour grapes attitude toward society and belonging, and especially toward success: "Fame is a fickle food / Upon a shifting plate." However, hope is not just "the thing with feathers," but "Hope is a subtle glutton," too.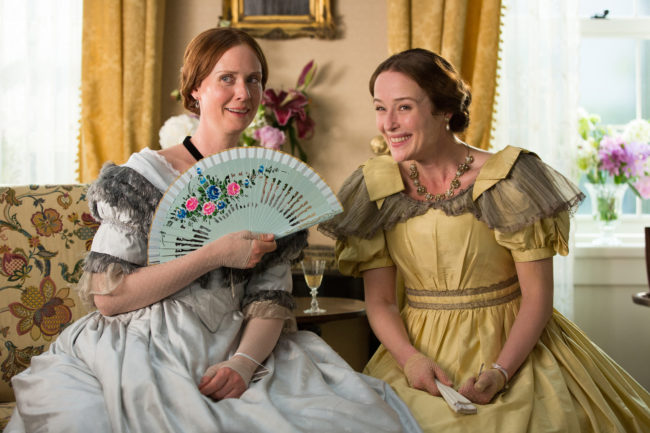 Although Dickinson's poetry uses food metaphorically, almost one-third of her letters—approximately 300—deal with real food. Even if Dickinson did not leave the house, she sent her desserts out into the world. Children were delighted when she lowered a basket of little oval loaves of gingerbread out the window. Dickinson's delicious "Cocoanut" Cake—that was the spelling at the time—is a modern pound cake. What makes it modern is that it is leavened with saleratus (aka baking soda) and cream of tartar, an early baking powder. What makes it Emily's is that on the back of the recipe, she wrote a poem, "The Things that never can come back, are several."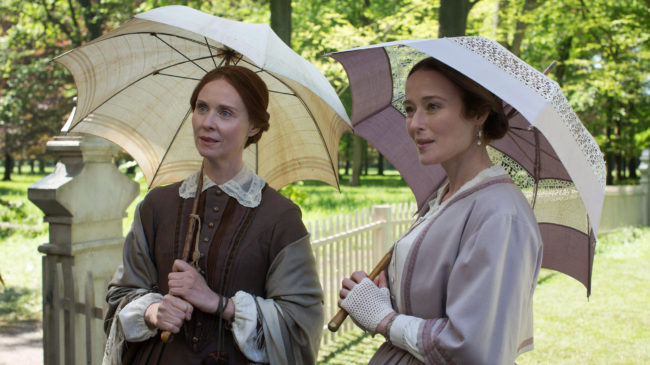 Cynthia Nixon's penetrating Emily Dickinson in A Quiet Passion is the polar opposite of Julie Harris's tremulous, teary hostess serving Black Cake—a spice cake loaded with raisins—to visitors in the 1976 play The Belle of Amherst. In A Quiet Passion, Davies cannot show Dickinson baking bread or making cake with real-life frequency. What Davies does do is capture the essence of Dickinson's complex persona and life. Davies' genius shows Dickinson's genius: her intensity, her originality, her gift—and his—for bringing forth a universe of poetry and beauty where others see only the mundane, or cannot bear to look at all.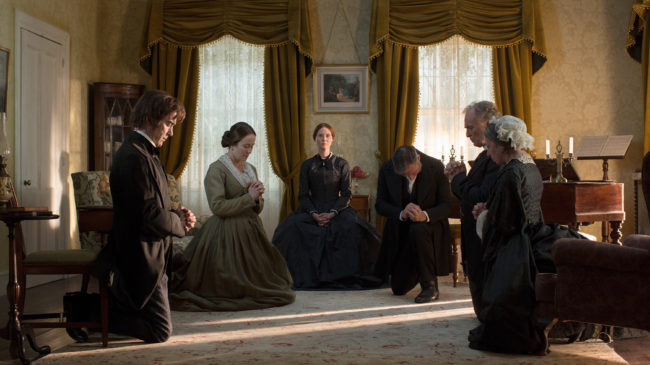 ********
Linda Civitello is a food historian. She is the author of Baking Powder Wars: The Cutthroat Food Fight That Revolutionized Cooking, and the award-winning Cuisine & Culture: a History of Food and People. She will be speaking about Emily Dickinson and food later this year at the Emily Dickinson Museum in Amherst, Massachusetts.
To learn more about Emily Dickinson:
Emily Dickinson is the author chosen for the weeks-long 2017 Los Angeles "Big Read" program. On Saturday, April 29, the Washington Irving Library, 4117 Washington Boulevard, will host a Poets' Panel, open mic reading, and a poetry workshop on Dickinson. Linda Civitello will speak briefly about Dickinson, and present desserts she made using Dickinson's recipes and heirloom flour.
The Collected Poems of Emily Dickinson. Introduction and Notes by Rachel Wetzsteon. The hundreds of poems in this collection are organized thematically: Life, Nature, Love, Time and Eternity, The Single Hound.
For children: Emily Dickinson  in the Poetry for Young People series edited by Frances Schoonmaker Bolin, illustrated by Chi Chung, from Sterling Children's Books.
The Dickinson letters: http://www.emilydickinson.org/
The Madwoman in the Attic: The Woman Writer and the Nineteenth-Century Literary Imagination is the pioneering 1979 book of feminist literary criticism by Sandra M. Gilbert and Susan Gubar. The lengthy final essay is on Emily Dickinson. The book's title is an allusion to one of the writers Dickinson admired, Charlotte Brontë. The poem that Dickinson wrote when Bronte died ends, "Oh, what an afternoon for heaven, / When Brontë entered there!"
Sandra M. Gilbert is also a poet. Her homage to Dickinson is in the title poem in her poetry collection Emily's Bread, and in the final section and final poem, both entitled "The Emily Dickinson Black Cake Walk."
Miss Emily. This 2015 novel by the award-winning Irish writer Nuala O'Connor is an intimate fictional portrait of daily life in the Dickinson household. Told in the first person, it shifts back and forth between Emily and the family's Irish maid, Ada.
The American Frugal Housewife by Lydia Maria Child. This cookbook, first published in 1832, was used in the Dickinson household.
The Emily Dickinson Museum: https://www.emilydickinsonmuseum.org/