Kurosawa's YOJIMBO (1962) screens Wednesday, April 19, at 7PM in West LA, Encino, and Pasadena. Presented on Blu-ray. Click here for tickets.
Laemmle Theatres and Anniversary Classics Abroad present a 55th anniversary screening of Akira Kurosawa's YOJIMBO, a vivid tongue-in-cheek samurai Western. Kurosawa's favorite actor, Toshiro Mifune, plays an amoral samurai in 19th century Japan. In a setup reminiscent of many classic Westerns (Shane in particular), Mifune's Sanjuro strides into town and tries to reconcile a battle between two warring factions. But in this case both of the gangs are equally corrupt, and our hero is no more upright. He eventually wreaks havoc on all the combatants. The swordfights have visceral force, and the violence is always leavened with humor. As Pauline Kael wrote, "Yojimbo is a glorious comedy-satire of force… explosively comic and exhilarating."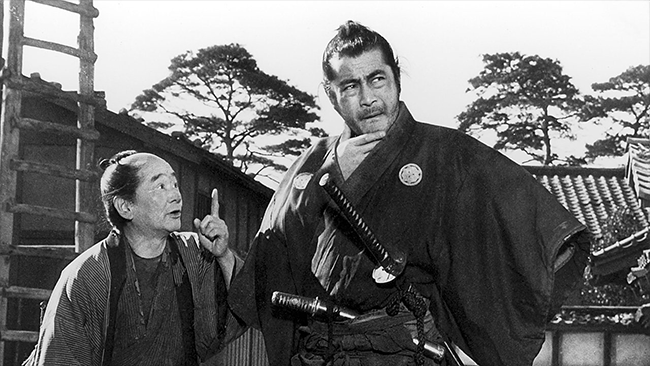 The film also proved to be enormously influential to a later generation of filmmakers. It inspired another perfectly amoral Western, Sergio Leone's A Fistful of Dollars, in which Clint Eastwood's The Man With No Name became the spaghetti Western equivalent of the cheeky samurai killer. Later directors Walter Hill and Quentin Tarantino also cited Yojimbo as an influence.
YOJIMBO is the second installment in our Anniversary Classics Abroad series, presented on the third Wednesday of each month. The series continues with Pietro Germi's DIVORCE ITALIAN STYLE on May 17 and Ingmar Bergman's SMILES OF A SUMMER NIGHT on June 21.
For more about our Anniversary Classics Series, visit www.laemmle.com/ac and join our Facebook Group.