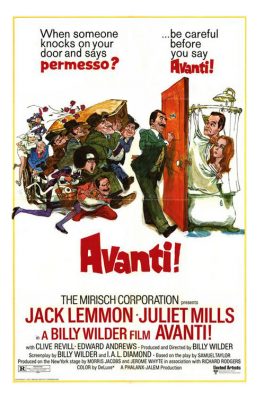 Laemmle Theatres and the Anniversary Classics Series present a 45th anniversary screening of AVANTI! (1972) followed by a Q&A with co-stars Juliet Mills and Clive Revill on Wednesday, March 29, at 7 PM at the Royal Theatre in West Los Angeles. Click here for tickets.
Six-time Oscar winner Billy Wilder made one of his most underrated movies, Avanti!, in 1972. The film's stature has risen dramatically in recent years. In his 1999 book, Conversations with Wilder, Oscar-winning writer-director Cameron Crowe declared, "The prize of Wilder's later-period work, Avanti! is a melancholy classic."
To make the film, Wilder reteamed with his favorite actor, Jack Lemmon (the star of Some Like It Hot and The Apartment), and Crowe declared, "The picture was a new peak in the collaboration of Wilder and the actor most tuned to his nuances."
Lemmon plays a crass businessman who travels to Italy to claim the body of his father, who was killed in an automobile accident while on vacation. There he learns that his father was carrying on a long extra-marital affair with an Englishwoman, who died with him in the accident. He meets the woman's daughter, played by Juliet Mills, and it seems that history may repeat itself as Lemmon and Mills fall in love. As Crowe wrote, Mills "is a wonderful foil for Lemmon."
The uproarious and poignant film represents a sly reworking of one of Wilder's favorite themes, the encounter of an innocent American and more worldly Europeans. It was a subject that Wilder first explored in his Oscar-nominated screenplay for Hold Back the Dawn in 1941, and he revisited this terrain in such other films as A Foreign Affair, Sabrina, Love in the Afternoon, and One Two Three. Avanti! was filmed on glorious Italian locations that gave added richness to the director's exploration of the innocent abroad.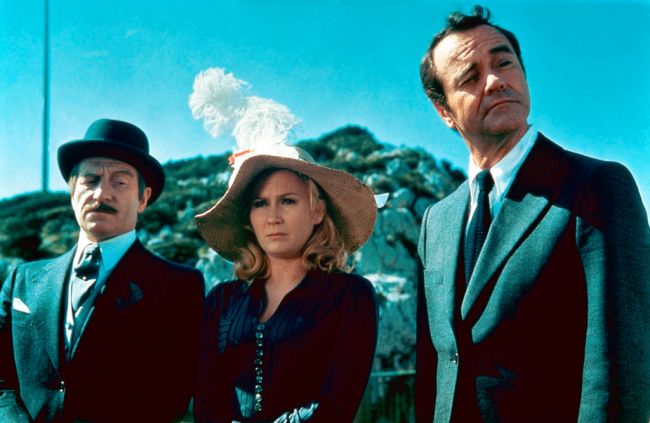 Clive Revill and Edward Andrews co-star in the film, which was written by Wilder and his long-time collaborator, I.A.L. Diamond. Luigi Kuveiller was the cinematographer, and the production designer was Ferdinando Scarfiotti, the Oscar-winning designer of The Last Emperor, The Conformist, and Death in Venice. Leonard Maltin called Avanti! a "sadly underrated comedy… lovely scenery, wonderful performances by all." The film was nominated for six Golden Globes.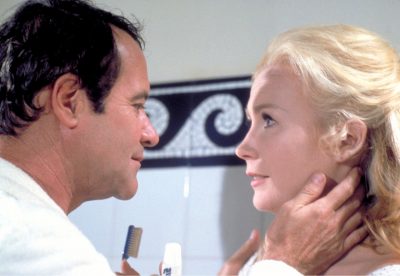 Juliet Mills is a member of one of the most distinguished British acting families. Her father, John Mills, was an Oscar winner as well as a lion of the theater. Her younger sister, Hayley Mills, the star of Disney classics Pollyanna and The Parent Trap, has also enjoyed a long career. Juliet has distinguished herself on stage, on screen, and on television. She was nominated for a Golden Globe for her performance in Avanti! and for her role on the hit television series, Nanny and the Professor. She won an Emmy for her performance in the miniseries, QB VII, and she was nominated for a Tony for her performance in Peter Shaffer's first Broadway play, Five Finger Exercise.
Clive Revill was nominated for a Golden Globe for his delightful performance as the beleaguered hotel manager in Avanti! He has also had a stellar career in film, theater, and television. He earned a Tony nomination for his performance as Fagin in the original Broadway production of Lionel Bart's Oliver. He co-starred in another Billy Wilder movie, The Private Life of Sherlock Holmes, and also appeared in Modesty Blaise, The Assassination Bureau, and The Legend of Hell House. His television roles include the miniseries Centennial and such series as Columbo and Star Trek: The Next Generation.
For more about our Anniversary Classics Series, visit www.laemmle.com/ac and join our Facebook Group.