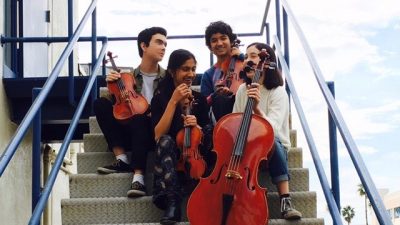 Join us at the Monica Film Center on Sunday, February 5, 2017 for Sol-LA Variations, LAEMMLE LIVE's second concert featuring the scholarship winning George Magub String Quartet from Santa Monica-based Sol-La Music Academy, Margaret Lysy, Director. The program will include Debussy and improv with guest violinist Connor Vance from acclaimed roots band, Dustbowl Revival. Also included will be a special performance by Sol-La student, Isolde Fair, who has gained national attention for  All the Little Girls, an original song she wrote using words from Hillary Clinton's concession speech.  Join us for our unique interactive musical adventure.
Sol-La Music Academy is a non-profit music school in Santa Monica, providing high quality performing arts education to students from all backgrounds and economic circumstances. Their program reflects the belief that vibrant cultural education nurtures all areas of learning, connects diverse societies and enhances enjoyment of life.
RSVP using Eventbrite
This is a Free Event!
EVENT DETAILS
Sunday, February 5, 2017
11:00 AM
Monica Film Center