Join us for a day of car-free fun at our Playhouse 7 theater during CicLAvia on Sunday, May 31st! Our green screen photo booth will transport you directly into scenes from iconic films like BREAKING AWAY, PEE WEE'S BIG ADVENTURE, and more! You can vote for your favorite scenes here. Plus, any photos shared on Twitter and Instagram using #LaemmleVia will appear on one of our movie screens! Come inside, sit back with friends, post photos, enjoy some free popcorn, refill your water, and listen to Pasadena-related songs.
Follow us on Twitter, Instagram, and Facebook for updates!
CicLAvia – Pasadena takes place from 9:00 a.m. – 4:00 p.m. on Sunday, May 31. Our Playhouse 7 theater located right on the route at 673 East Colorado Boulevard, just east of El Molino Avenue.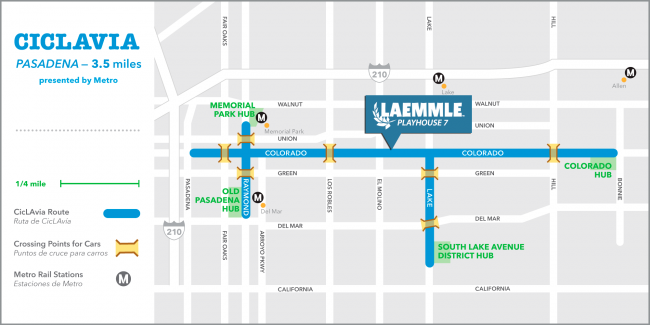 Since 2010, CicLAvia has challenged the concept of Southern California as a car-only region. By temporarily removing cars from streets for one day, people are encouraged to transform their relationship with their communities and with each other.
New to CicLAvia? Here are four things you need to know for May 31:
It's FREE!
It's not a race and you don't need a bike to participate. You can walk or skate to your heart's content.
There's no beginning or end. You can start anywhere and go as far or as short as you want.
The flow of participants goes both ways, just like regular traffic.
Hope to see you there!