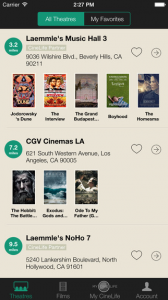 CineLife is a free mobile app that puts art house theaters and independent film first. We are pleased to be official CineLife Launch Partners!
Designed for the film enthusiast, CineLife provides up-to-date information wherever you are. You can easily see what movies are playing, watch trailers, check reviews, find show times, and purchase tickets all in one place. You can even use your Laemmle Premiere Card!
You'll never miss out on news, promotions, and special events like Q&As at your favorite Laemmle Theatres. CineLife also provides the latest indie film news from respected leaders and blogs in the art house community.
Download the CineLife app for your iPhone today and favorite your local Laemmle Theatre… or all Laemmle Theatres!