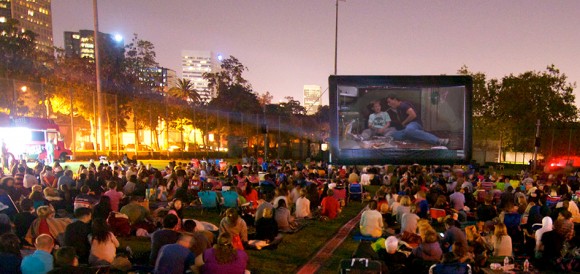 Laemmle is once again proud to be a sponsor of EAT SEE HEAR, one of L.A.'s premiere outdoor entertainment series.  As its name suggests, Eat See Hear offers a unique trifecta of classic movies, live music, and gourmet food trucks to create a distinctive summer experience. With entry as low as $10, it's also a uniquely affordable option for families and all those hoping to squeeze the most out of their entertainment dollar. Events occur every Saturday night at various venues across the city from May 10 to Sept. 13.
The 2014 edition of Eat See Hear begins this Saturday, May 10 at the Greek Amphitheater at SANTA MONICA HIGH with the indie cult romance, (500) DAYS OF SUMMER, starring the lovestruck Joseph Gordon-Levitt and Zooey Deschanel as the object of his affections. The night also features a musical performance by VERDE DERDE, an indie-rock trio whose melodic soundscapes have earned comparisons to Radiohead and Sonic Youth by local critics. And, of course, there will be usual ESH Food Truck Caravan to cater to whatever you're stomach is craving. The door opens at 5:30 PM, with music starting at 7 and the movie scheduled for 8:30.
Upcoming events include OFFICE SPACE at Santa Monica High (May 17), THE BIG LEBOWSKI at Griffith Park (May 24), NAPOLEON DYNAMITE at Paul Revere Middle School (May 31) and RUSHMORE at Griffith Park (June 7). The Series continues throughout the summer concluding with THE GOONIES at Pasadena City Hall (September 13).
For tickets and more info, visit EatSeeHear.com.