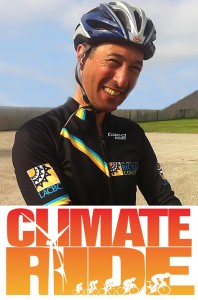 Last year's Ride with Greg Laemmle Climate Ride Contest was so successful we're doing it again!
Tell us why you want to ride with Greg and you could win an Unlimited Laemmle Movie Pass for the remainder of 2014, free registration for Climate Ride California, and a $2500 contribution toward your Climate Ride fundraising goal from the Laemmle Charitable Foundation.  See the second and third prize packages, eligibility requirements, and all contest details over on the contest entry page.
An outside panel of judges will select the winners based on the quality of their entry statement so take the time to craft something that'll really knock their cycling socks off! But don't wait too long, the deadline for entry is Monday, February 17!
Climate Ride Wine Country 2014 is a fully-supported, four-day group ride covering 250 miles of stellar Northern California scenery starting in San Francisco and winding through the famous wine growing regions of Napa Valley and the Russian River Valley.  It culminates at the iconic state capitol building in Sacramento.  Bike fitness is recommended, but the ride caters to all levels of ability.
You can listen to Greg Laemmle talk about Climate Ride on KPFK's Bike Talk here. He was joined by past Climate Riders, Ride Director Blake Holiday, and LA County Bicycle Coalition Executive Director Jennifer Klausner.