The new documentary UNAPOLOGETIC, opening September 3 at the Monica Film Center and on the Laemmle Virtual Platform, captures a tense and polarizing moment in Chicago's fight for the livelihood of its Black residents. The film follows Janaé and Bella, two young abolitionist organizers, as they work within the Movement for Black Lives to seek justice for Rekia Boyd and Laquan McDonald, two young Black people killed by Chicago police. They aim to elevate a progressive platform for criminal justice to a police board led by Lori Lightfoot and a complicit city administration, while also elevating leadership by women and femmes. Laemmle Theatres opens UNAPOLOGETIC Friday, September 3 at the Monica Film Center and on the Laemmle Virtual platform.
UNAPOLOGETIC subject Bella Bahhs and director Ashley O'Shay will participate in Q&As at the Monica Film Center after the 7:40 screening on Friday, September 3 and after the 1 and 7:40 PM screenings on Saturday, September 4.
What follows is Ms. O'Shay's artistic statement:
"In the winter of 2012, Rekia Boyd was just getting started in life. Her friends describe her as someone prone to smiles and laughter. She dotted her i's with hearts, was a big Drake fan, and expressed herself freely on Facebook while trying to figure out her relationship status. In the winter of 2012, I was also just getting started. I was in my first year at Northwestern University's film program and was one of less than ten Black people in my class. A slew of racist campus events caused me to feel further isolated and pushed me to begin speaking out about how racism affected my everyday. Slowly but surely, I began integrating these realizations into my art.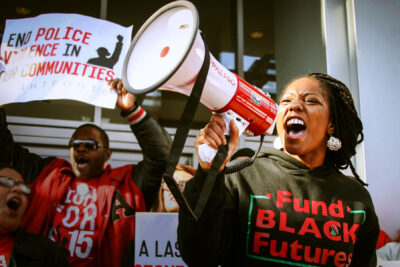 "In March of that same year, Rekia was hanging out with her friends near her home when she was killed by a stray bullet. It took three years for the police officer who shot her to be brought to court, and after years of waiting for justice, it was deemed a mistrial. It seemed that he would walk away without being held accountable.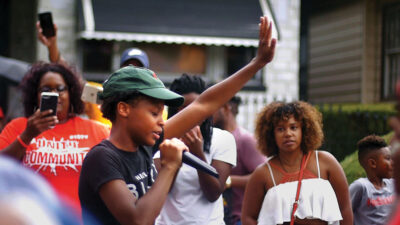 "Three years later, people of all ages from neighborhoods throughout Chicago came together to organize around their frustration. With nothing but a borrowed camera and monopod in hand, I joined the hundreds descending upon Chicago Police Headquarters to demand justice. The energy was electrifying. Black women on bullhorns stood in front of crowds leading the space. For the first time, I experienced a different narrative unfolding in the enduring struggle for Black freedom – one led by Black feminist voices. I couldn't help but see myself in them.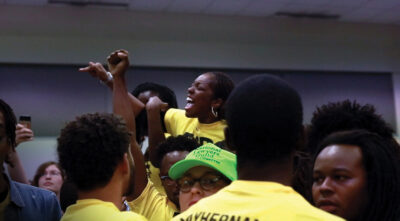 "Shortly after, I began to document two of these voices: Janaé Bonsu, a 24-year-old pursuing her PhD in social work while also rising the ranks of a national activist organization; and Bella Bahhs, a 22-year-old "rap-tivist" from the Westside of Chicago whose artistry and activism seek to heal women harmed by intergenerational effects of incarceration – women like herself. Over the course of two and a half years, we watch as these women grapple not only with what it means to lead a mass movement, but also to enter early adulthood as Black, queer women.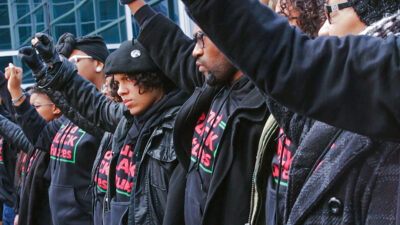 "I have been a filmmaker for nine years now; Unapologetic is my feature film directorial debut. Five years after beginning production, we have completed the film. While this documentation was certainly important at the time of filming, it proves even more essential now, especially in light of the recent killings of George Floyd and Breonna Taylor in 2020. As Lori Lightfoot has become the first Black, openly-queer mayor of Chicago, mainstream media has championed her as a symbol of progressive growth. However, the current reality in the city counters that. After years of intentional work, organizers are working to educate the community around abolishing and divesting from policing, despite a new mayor bolstered by representative politics. Unapologetic intentionally centers the narratives of the Black queer feminist organizers who brought forth the progressive platform that set the stage for Chicago's historic shift in leadership.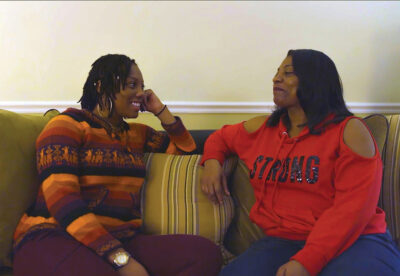 "I have always known and felt the presence of Black resistance in my life. However, the strong feminine leadership in the Chicago movement caused me to question where my history had been placed. How might my world have been different if I saw a young PhD student or a rapper that looked like me organizing a mass movement? Unapologetic has given me an opportunity to discover more about myself through this legacy of resistance, and take a more active role in it.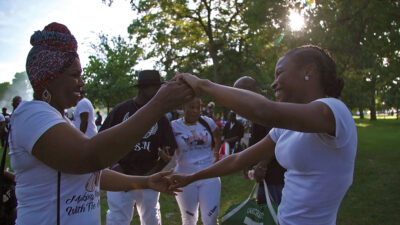 "What does one usually require of a Black movement leader? Certainly not femme. Certainly not queer. Certainly not flawed, or quick to anger, or overly opinionated. By focusing on this refreshing counter narrative within the Movement for Black Lives, I wanted to recognize this heroic and thankless work, catalyzing empathy, understanding, and hope in all viewers at such a critical time for Black lives." — Ashley O'Shay