Roy Andersson is one of the world's most eminent living film directors, and the main subject of Being a Human Person. This maverick Swedish auteur's work has been celebrated at all of the world's major film festivals, from his 1970 debut A Swedish Love Story, which picked up four prizes at Berlin, through to Songs from the Second Floor, which won the Jury Prize at the Cannes Film Festival in 2000. His final two films (A Pigeon Sat on a Branch Reflecting on Existence and About Endlessness) both premiered in Venice, winning the Golden Lion in 2014 and Silver Lion in 2019, respectively.
At 76 years of age, Andersson was about to complete his final film, About Endlessness. With the end of his career in sight, the central thematic concerns of his work – vulnerability, insecurity and mortality – spilled over into his creative process, blurring the line between the personal and the professional. In documenting this process, Fred Scott's Being a Human Person becomes a powerful meditation on the relationship between art and artist, and a heartbreakingly honest portrait of one of the most startlingly original and unremittingly humane directors in world cinema. Laemmle Theatres opens Being a Human Person on our virtual platform beginning this Friday, July 30. About Endlessness is available now.
The British production company Archer's Mark wrote the following about the documentary:
There are some filmmakers whose style is so unique, they can announce themselves in a scene. Lynch, Spielberg, Welles, Malick. They have such intense and personal vision, such specificity of time, place and cultural context – that we only need to spend a minute in their world to recognise their signature. And then there is Roy Andersson. A director who possesses a style of visual storytelling that allows his work to be known in a single frame.* Because Roy – in a world where the hyperbolic use of such a phrase is all too commonplace – is truly one of a kind, for many reasons.
Each of his films takes an average of five years to make. His crew builds every set; films it; and then destroys it. He uses only fixed, long shots with no close-ups or edits. Each film is made up of an average of 40 intricate, painterly tableaux. He only casts non-professional actors. Roy's intricate in-camera trickery employs surgical craftsmanship that is meticulous to the point of madness… And all of this takes place on the two floors below Roy's apartment in an unassuming townhouse in central Stockholm – also known as the legendary Studio 24.
In short, Roy's way is the antithesis of every film production of the last 50 years. It has won him garlands at the biggest festivals in the world – Cannes, Berlin, Venice – and the adulation of visionary directors like Darren Aronofsky and Alejandro G. Iñárritu.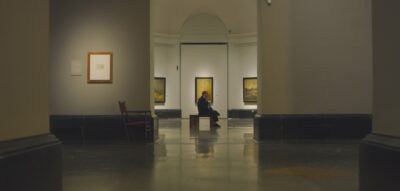 In an age of the franchise, and a proliferation of cookie-cutter storytelling, Roy is quite simply the last of his kind. And now, at 76 years of age, he is about to present his last film to the world. That film – About Endlessness – will mark the end of a major chapter in cinema. For when Roy stops making films, they will simply never be made in this way again.
Set across a three year time period, Being a Human Person charts the arduous and unsettled arc of production of what Roy lovingly terms his "final effort". Shot through with Roy's candour, humour and insistence on capturing the process in all its truthfulness – even as he comes to terms with his own, increasingly fragile, mortality – it also becomes a meditation on the legacy of a master storyteller as he calls time on his career.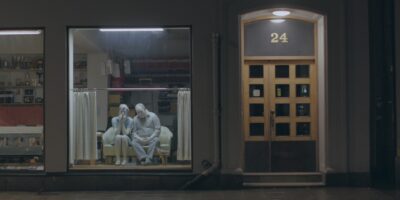 *From The Living Paintings of Roy Andersson by Film Qualia (YouTube)