French film pioneer Agnès Varda, who died last week in Paris, was a kind, funny and brilliant person beloved by cinephiles around the world and by the patrons and workers of Laemmle Theatres. Over her decades-long career we screened many of her films, including 2000's The Gleaners and I and 2017's Oscar-nominated Faces Places. She loved and had many connections to Los Angeles — her funeral yesterday in Montparnasse ended with a performance of the Doors' L.A. Woman — making several films here, including Uncle Yanco (1967), Black Panthers (1968), Lions Love (… and Lies) (1969), Murs Murs (1980) and Documenteur (1980). She moved here in the spring of 1968 with her equally-legendary husband Jacques Demy, who was filming Model Shop, and then again with her son Mathieu in 1981. Fellow Los Angeles cultural institutions LACMA, the American Cinematheque, and the Academy also exhibited, screened and honored her and her oeuvre over the years and she has many close friends here.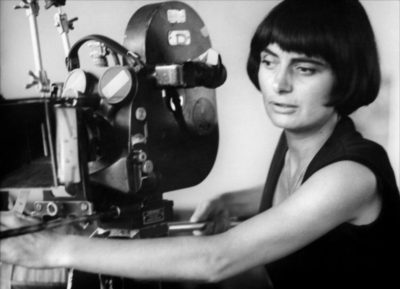 In the L.A. Times, film critic Justin Chang wrote beautifully of Varda as "a pioneering woman of cinema, a pillar of the French New Wave, an experimenter, a master, a spiritual mentor, a bestower of joy: The miracle of Agnès Varda lay not merely in all that she accomplished, which was enormous, but also all that she succeeded in meaning to those who knew her." Variety published a terrific appreciation by Peter Debruge about her career and vast influence which began: "Until today, if you had asked me to name the greatest living filmmaker, I would have answered Agnès Varda. What a loss that the 90-year-old director — who died Friday, leaving behind such intimate masterpieces as "Cléo from 5 to 7," "Vagabond," and "The Gleaners and I" — will create no more.'
"Her passing is a chance for the world of cinema to come together and recognize the achievements of an outsider artist who lived long enough to appreciate the impact her work has had on both audiences and multiple generations of younger directors. Before the French New Wave took form in the late 1950s, it was Varda who paddled out from shore and shouted, "Hey boys, come on in! The water's fine!" And in recent years, with a series of increasingly personal documentaries — including two, "The Beaches of Agnès" and "Faces Places," that the Los Angeles Film Critics awarded along the way — Varda reiterated the liberating message of her 65-year career: Cinema is about sharing one's point of view."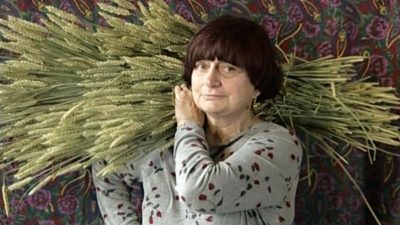 In Indiewire, Judy Dry posted a piece headlined "Miranda July, Greta Gerwig, and 15 Women Filmmakers on What Agnès Varda Meant to Them," with July describing her as "the filmmaker of my life" and Ava DuVernay writing "Merci, Agnès. For your films. For your passion. For your light. It shines on."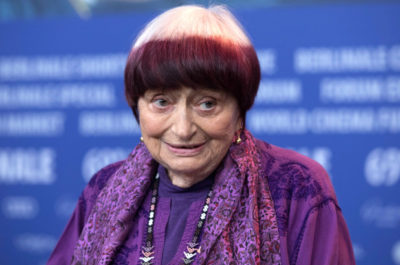 At her funeral yesterday, her daughter Rosalie delivered a powerful eulogy, sharing with the gathered mourners that she use to call her mum "ma douce" and "ma petite patate" (my little potato). If you've seen Gleaners, you'll know why. Her son Mathieu's speech made the mourners laugh and several of her grandsons spoke as well and did an art installation on a street next to the cemetery by painting the tops of the street posts as an homage to Agnes' distinctive hairstyle. (Le Monde included a photo of the posts in their coverage.) At the French Cinematheque tribute afterward, Sandrine Bonnaire spoke, saying that she was a flower when she and Agnès began filming Vagabond (1980) and became a tree thanks to Agnès. Jane Birkin sang a song a capella and Catherine Deneuve read this beautiful poem from 1870 by Arthur Rimbaud as an homage to Agnès:
Sensation
Par les soirs bleus d'été, j'irai dans les sentiers,
Picoté par les blés, fouler l'herbe menue :
Rêveur, j'en sentirai la fraîcheur à mes pieds.
Je laisserai le vent baigner ma tête nue.
Je ne parlerai pas, je ne penserai rien :
Mais l'amour infini me montera dans l'âme,
Et j'irai loin, bien loin, comme un bohémien,
Par la Nature, – heureux comme avec une femme.
Translated:
On the blue summer evenings, I shall go down the paths,
Getting pricked by the corn, crushing the short grass:
In a dream I shall feel its coolness on my feet.
I shall let the wind bathe my bare head.
I shall not speak, I shall think about nothing:
But endless love will mount in my soul;
And I shall travel far, very far, like a gypsy,
Through the countryside – as happy as if I were with a woman.
Agnès finished one more film after Faces Places. It's called Varda by Agnès and it screened at this year's Berlin Film Festival and will probably make its way to the U.S., hopefully on Laemmle screens. Merci pour tout, Agnès.