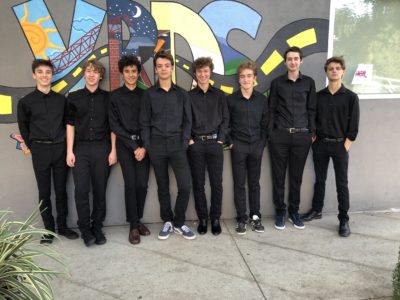 RSVP ON EVENTBRITE
This is a Free Event
LAEMMLE LIVE proudly presents the extraordinary Crossroads School Jazz "A" Band on Sunday, December 2, 2018 performing classic, contemporary and original jazz.
Crossroads School for Arts & Sciences is a K-12, coed college preparatory school in Santa Monica, California. Crossroads was founded upon five basic commitments: to academic excellence; to the arts; to the greater community; to the development of a student population of social, economic and racial diversity; and to the development of each student's physical well-being and full human potential. One in four students receives financial assistance. The School is highly acclaimed for its programs and is a leader in public/private educational partnerships.
The program will be selected from the following: Inner Space, by Chick Corea, Drum Battle, by Kneedbody, Ridges, by Leo Major, My Foolish Heart, by Washington/Young, Have You Met Miss Jones, by Richard Rodgers, Red Clay, by Freddie Hubbard, Someday My Prince Will Come, by Churchill/Morey, In a Sentimental Mood, by Duke Ellington, 500 Miles High, by Chick Corea, Head in the Clouds, by Lucas Wurman, Isfahan, by Strayhorn/Ellington, Nardis, by Miles Davis, Capricornus, by Austin Peralta, Time After Time, by Cahn/Styne, Footprints, by Wayne Shorter.
Crossroads Jazz "A" Band
Leo Major, alto saxophone
Ethan Avery, trumpet
Will Kissinger, piano
Josh Lipp, guitar
Lucas Wurman, guitar/vocals
Will Royce, bass
Emilio Anamos, drums
Stefan Fayman, drums
This is a Free Event
RSVP ON EVENTBRITE
Sunday, December 2, 2018
11:00 AM
Monica Film Center