Laemmle Theatres and the Anniversary Classics Series present a special Halloween double feature in the popular Twofer Tuesday Series (two films for the price of one) on October 31.
We will show a "double treat" of the 85th anniversary of THE MUMMY (1932) with the 75th anniversary of CAT PEOPLE (1942). Both films epitomize atmospheric black-and-white chills from the classical studio era.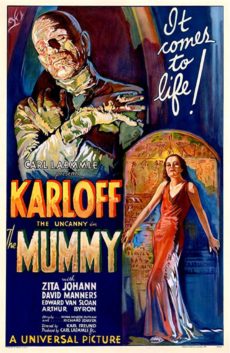 THE MUMMY was one of the early efforts from Universal studios to capitalize on the their success in the horror genre (following the 1931 hits Dracula and Frankenstein).
Karl Freund, the German émigré cinematographer of Metropolis and Dracula, made his directorial debut with this film inspired by the opening of Tutankhamen's tomb in 1922.
Producer Carl Laemmle Jr. hired one of the writers of Dracula, John L. Balderston, to craft a screenplay from a story by Nina Wilcox Putnam and Richard Schayer, and cast Boris Karloff, fresh from his star-making performance in Frankenstein, as the three-thousand-year-old mummy stalking an English girl (Zita Johann) he believes is the reincarnation of his ancient love.
The cinematography is credited to Charles Stumar (who shot the Lon Chaney silent The Hunchback of Notre Dame). The result is a masterpiece of mood, described by critic Pauline Kael as "…disturbingly beautiful. No other horror film has ever achieved so many emotional effects by lighting; the film has a languorous, poetic feeling, and the eroticism that lives on under Karloff's wrinkled parchment skin is like a bad dream of undying love."
With David Manners, Bramwell Fletcher, Arthur Byron, and Edward Van Sloan.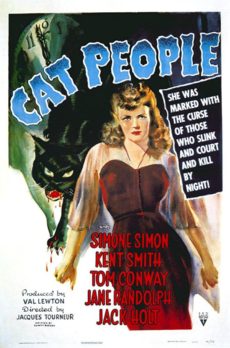 CAT PEOPLE was the first venture from producer Val Lewton (I Walked With a Zombie, Curse of the Cat People, The Body Snatcher) as head of RKO's new horror division in 1942. He gave Jacques Tourneur the chance to direct his first feature with this tale of a new bride (Simone Simon) who fears she is a descendant of a predatory cat family.
DeWitt Bodeen (I Remember Mama, Billy Budd) wrote the screenplay from a short story by producer Lewton, who also employed cinematographer Nicholas Musuraca and editor Mark Robson (future director of Peyton Place and Valley of the Dolls), to create one of the most imaginative low-budget films ever made. Tourneur and Musuraca later collaborated on one of the seminal film noirs, Out of the Past.
Roger Ebert called Cat People one of the "Great Movies," extolling it as "frightening in an eerie, mysterious way that was hard to define; the screen harbored unseen threats, and there was an undertone of sexual danger that was more ominous because it was never acted upon."
With Kent Smith, Tom Conway, and Jane Randolph. Inducted into the National Film Registry in 1993.
Our Halloween Twofer plays October 31 at three locations: Royal, NoHo 7 and Pasadena Playhouse 7. The complete double feature screens twice, with THE MUMMY shown at 5:00 pm and 8:20 pm; CAT PEOPLE at 6:40 pm and 10:00 pm.