Join Laemmle and  Eat|See|Hear for a KILLER BLONDES themed month of #TBT screenings at the NoHo 7 in North Hollywood! Every Thursday in July our Throwback Thursday series presents some of film's most dangerous femme fatales. It all starts Thursday, July 6th with Brian De Palma's DRESSED TO KILL. Check out the full schedule below or visit laemmle.com/tbt.
July 6: Dressed to Kill
A mysterious blonde woman kills a psychiatrist's patient and then goes after the high-class call girl who witnessed the murder. Starring Angie Dickinson, Michael Caine, and Nancy Allen. BUY TICKETS.
July 13: Double Indemnity
An insurance representative lets a beautiful woman talk him into a murder/insurance fraud scheme that arouses an investigator's suspicions. Directed by Billy Wilder and starring Barbara Stanwyck, Edward G. Robinson, and Fred MacMurray.  BUY TICKETS.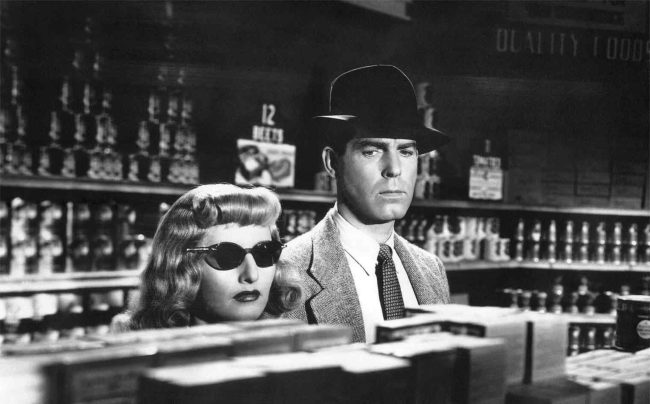 July 20: To Die For
An aspiring television personality manipulates a group of teenagers into killing her husband, who she sees as a threat to her career. Directed by Gus Van Sant and starring Nicole Kidman, Casey Affleck, Dan Hedaya, Illeana Douglas, Joaquin Phoenix, and Matt Dillon.  BUY TICKETS.
July 27: Vertigo
A San Francisco detective suffering from acrophobia investigates the strange activities of an old friend's wife, all the while becoming dangerously obsessed with her. Alfred Hitchcock's VERTIGO stars Barbara Bel Geddes, Jimmy Stewart, and Kim Novak.  BUY TICKETS.
We're going Hog Wild in August with five of our favorite biker movies including EASY RIDER, HELLS ANGELS ON WHEELS, THE WILD ANGELS, and more! Stay tuned!